ACCA's current strategy sets out our vision to 2015. This vision is that ACCA will be recognised as the leading global professional accountancy body in reputation, influence and size.
The strategy to 2015 was launched in 2009 and arrived at through a scenarios-based approach which set out alternative potential versions of the future for the global profession, based on extensive research with internal and external stakeholders around the world.
2015 strategy map
The strategy map shows the 12 strategic outcomes ACCA needs to deliver to achieve its strategy to 2015. These outcomes impact on and are affected by each other and the map shows the relationships between the outcomes through four perspectives:
the governance perspective, asking what ACCA's Council expects
the members' perspective, asking what will make members invest in ACCA
the process perspective, asking what ACCA must excel at in order to meet the expectations of its key stakeholders
the innovation perspective, asking what ACCA must learn and develop to continue creating value for its stakeholders.
To enrich the strategy map further, the outcomes are linked by three strategic themes of accountability and integrity, stakeholder engagement and innovation. In this way, the strategy explicitly delivers to ACCA's core values, with the two remaining core values of opportunity and diversity being integral to the strategic outcome of the recruitment and retention of our membership base.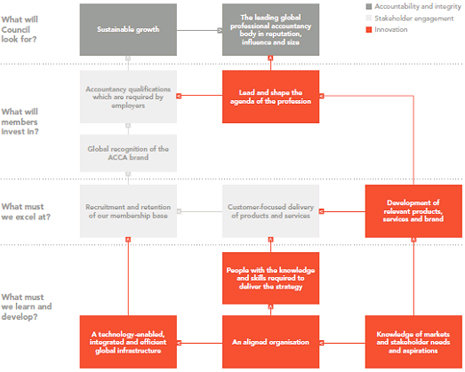 Strategic outcomes
ACCA tracks its performance against the achievement measures and targets of each of the 12 strategic outcomes. These targets and measures are agreed by Council annually.
There is a single measure of achievement of each of the 12 outcomes. These have been developed as a total basket of measures, across the four perspectives of the strategy map. Through the use of a balanced scorecard approach, the 12 strategic measures should be viewed in a holistic way that determines the overall effectiveness of ACCA's strategic performance and delivery.
Risk management
We proactively identify and keep under review risks that may affect the development and achievement of our strategic outcomes. We maintain risk registers at both directorate and overall corporate level. Risks on the corporate risk register are reviewed by our Executive Team every month and a review of the impact and likelihood of each is carried out, along with analysis of controlled and planned actions. Each risk is owned by an Executive Team member, ensuring that it is given the high-level attention it merits. Audit Committee provides oversight of these risks and reviews them on a rolling basis.
Beyond 2015
We are currently developing our strategy to 2020, looking at the key trends and external forces that will shape the environment in which we are operating during the next phase of our development as a professional body.