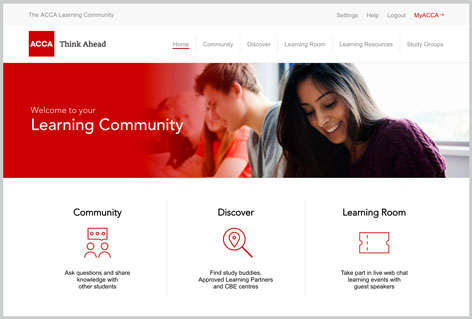 Make sure to bookmark the ACCA Learning Community using the new domain name – https://learningcommunity.accaglobal.com/ – to take advantage of the exciting new features, which include:
Learning Community updates – you will receive personalised updates via email to ensure you are kept up-to-date on what's happening in the community
Polling – which can be added to debates or events in the community to find out what other students think on a particular matter
Interactive channels – you can now view study materials, videos and PowerPoint presentations in the learning room before and during the event.

The ACCA Learning Community provides students with lots of key resources that can help improve exam performance and it's a great way to engage with your fellow students.
Don't forget you can join exam-specific study groups and discuss specific exam technique advice for gaining professional marks.
By using the ACCA Learning Community, you will benefit from support and knowledge sharing 24/7, anywhere in the world. It's mobile friendly and looks great when used on a smartphone.
The ACCA Learning Community also shows you how far you have come in your ACCA journey to becoming a complete finance professional and you can also benefit from collaborating with others who are at a similar stage in their exams, careers and ambitions.