According to the World Bank, participation by women in the workforce in stands at 46%, which is low by international standards compared to neighbouring countries such as , and . What do you think are the reasons and how can organisations tackle this situation?
The Malaysian landscape is changing, with more and more women now wanting to juggle between their career and family commitments. Unfortunately, many Malaysian employers have not proactively addressed this changing trend, thus a lack of emphasis on providing meaningful support for working mothers.
There's also the cultural aspect to consider. In many Malaysian families, it's still expected that women devote more time to family commitments (raising the kids, and doing housework, for example) as opposed to their careers.
On top of the various women-friendly policies that organisations should consider (see examples of PwC's initiatives in Q3), they may also want to look at:
- Creating general awareness – educating all employees, male and female, on why diversity matters and what women leaders can bring to the table.
- There's also the important role of sponsors and mentors, both male and female. This is something PwC's leaders have traditionally taken upon themselves to do. In mentoring, we focus on identifying female talent, and supporting and guiding them through their career progression. In some cases, some of us take it further and embark on what we call sponsorship. Here we actively identify talented women and potential leadership roles for them, and support them in taking on these roles. As a result of these concerted efforts, 40% of our Partners and Directors currently are female, a statistic that we in PwC are proud of.
Gender diversity has become a priority agenda item for policymakers and business leaders internationally. How can gender diversity add value to your organisation? How can it add or improve business and financial performance?
We pride ourselves on celebrating diversity at work, and this is both from a gender, ethnic and age perspective. For instance, a large number of our employees are Gen Y, who is required to work closely with the baby boomers and Gen X as well. It's also a business imperative for us to promote gender diversity and to retain women in the workforce. (See bullet points below)
See illustration on how Asian countries fare (extract from McKinsey's report)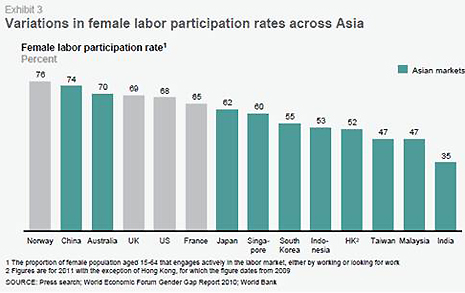 In general, there are a few reasons why women at leadership levels matters. First, there's the dollars and cents –an Asian-focused McKinsey study on women[1] shows that raising the participation level of women in Malaysia's labour force (to match those of Singapore or Korea – see chart) has the potential to increase Malaysia's GDP by between RM6 – 9 billion. According to a similar McKinsey report[2], there is a link between the proportion of women in senior management positions and corporate performance.
On the softer side, our own experience has shown that women bring diverse viewpoints and a different approach to management and handling issues.
For PwC in particular, almost 60% of our entry level graduates are female (which is reflective of the Malaysian graduate market for our industry as a whole). With a talent pipeline which is predominantly women, it makes business sense for us to minimise the number of women employees who leave as they progress in their careers. . When we have women in senior positions, they are also good role models to the younger female talent. And this is a good retention strategy for us.
(Mentioned above)
Does your organisation have any policy or KPIs emphasising on female talents? What systems or tools has your organisation put in place to attract women on career hiatus to rejoin the workforce?
We have consistently placed emphasis on developing and retaining female talents in support of gender diversity in the firm although there isn't a formal policy in place. We exceed the national target of a minimum of 30% women representation in decision making positions: 40% of our Partners and Directors are women, while 62% of our Managers are women.
PwC is one of the pioneer organisations in support of TalentCorp's microsite, "TalentWanita" to encourage women to return to the workforce. We are also one of the participating organisations in the recent Women Summit and also the recent "Hari Wanita Kebangsaan" in support of this initiative.
Nowadays, flexible work arrangements (FWA) and support facilities are preferred by women with families. Does your organisation provide these? If yes, can you share more details on these?
If not, can you share your and your organisation's view on FWA and support facilities? Would you propose and implement any of the FWA or support facilities in your organisation? If you do, which will your management team support to take-up?
PwC's Flexible Working Arrangement (FWA) is a key cornerstone of our efforts to encourage women with families to continue their careers. We've had the FWA programme in place for many years. We are also continuously looking at ways to enhance this programme. Under certain circumstances (a sick child, their first day at school and so on) our people are given the flexibility to manage their time and work accordingly.
Our "WorkLife Plus Programme" (which includes the FWA, career break, and time-out options[1]) has helped retain some of our working mothers. A handful of our colleagues currently are part of this programme, but they are mostly from our Internal Firm Services teams. Our challenge now is to try and get our client-facing people to consider this option instead of leaving the firm altogether.
Other initiatives and supporting infrastructure we have include:
- A support group at work called the Parents Network. The network meets regularly to share tips and experiences on balancing the responsibilities of being a working parent and bringing up young children at the same time. This programme has received positive feedback and support from mothers, would-be mothers, as well as fathers.
- A mum's room for breastfeeding mothers
- Reserved parking slots for pregnant ladies
- Celebrating International Women's day – for example, inviting inspirational women role models to share their stories
- We have a strong coaching culture at PwC. And although we don't have an official mentoring programme in place for women in leadership positions, our senior leaders, many of whom are men, (have taken it upon themselves to work with upcoming female talent to support and guide them throughout their career progression.
What do you think are the key factors to encourage women to aspire to leadership and climb the career ladder? Can you share tools or systems that you have implemented successfully in-house that cater to leadership in women?
On the other hand, there are companies that have equal opportunity tools and systems in place. Despite these, barriers to opportunity may still exist due to women's own issues and biases, for example lack of confidence to compete together with men for job progression and opportunities, or their impression that men will be favoured or chosen to lead. How does your organisation manage or dismantle these barriers? What can we do together to address this?
There are a few key and recurring factors that seem to play a part in the success of our women leaders – having good mentors throughout their careers, being able to see and work with other women role models within the firm, and having supportive and understanding spouses/partners who support their career aspirations. We believe that these factors are also important in managing the self-imposed barriers many women have – for example, confidence, self-limitations, and the 'guilt factor' where they feel they have to be perfect wives and mothers, as well as career women.
I have personally seen a few instances of high potential women, who impose these limitations on themselves. They constantly question their own abilities – for example, they prefer not to volunteer themselves for new roles (unlike men who will put their hands up for these opportunities, without thinking twice about whether or not they are ready). What we have done in PwC, is help to remove some of these barriers. We sponsor our key women talent, helping them take on new roles, and supporting and encouraging them throughout their journey.
It's important that we continue to have both men and women role models who can share their personal experiences in both juggling work and family, or in encouraging women talent to do that successfully. One such example is our new Assurance leader, Pauline Ho. Not only is she one of our younger partners, she's also a mother of triplets, and now leads an entire Line of Service. She often shares her stories and experiences with young mothers, or has conversations with women who need someone to turn to.
For two years, we also participated in a cross-industry mentoring programme, which was run by HSBC. In this programme, our senior female talents were paired up with a leader (either male or female) from a different organisation, to mentor them. In turn, our leaders mentored women in these other organisations.
Our Government has implemented policies and even provided funds and assistance to organisations in order to retain and call back women to re-join the workforce. In line with this objective, our Prime Minister has announced the Double Tax Incentive for compliant companies which will be launched in 2013, fund allocation and assistance for child care centres at organisations, a microsite to connect women with companies that have jobs with flexible work arrangements and support facilities, and other incentives are in the pipeline. What else can the government do to encourage companies to attract and retain women in the workforce?
Set up a training fund to help organisations upskill women who return to the workforce
Give incentives to organisations who provide telecommuting facilities or IT support, which allows the option to work remotely
Walk the talk: profile women leaders in the public sector, or government agencies with flexible working arrangements or a high number of women employees. This will help encourage the mindset of the private sector.
Encourage more men in leadership roles and business leaders to champion gender diversity issues.
Tax incentives for companies who implement infrastructure or amenities which support mothers at work (e.g. extended maternity leave or infrastructure such as a mother's room)