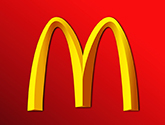 Website: www.mcdonalds.co.uk
Twitter: @McDonalds
Location: Sutton Coldfield and Head Office in East Finchley, North London
Sector: Corporate
Number of employers: 37,000
Application deadline: Friday 18th October
Entry Level
2:1 Degree and minimum 3 B's at A-Level or equivalent
Application deadline: Friday, 18th October
Selection procedure: Assessment Centre
WHY McDONALD's?
McDonald's is the biggest family restaurant business in the world, serving approximately 3 million customers a day in the UK alone.
Our world class people practices and employment opportunities continue to be recognised by numerous prestigious external bodies and we have been awarded the following Employment Awards:
Top 10 of the Sunday Times '25 Best Big Companies to work for': 2012
Great Place to Work - Top 50 Best Workplaces UK: 2007 - 2013
Investor in People: Gold status
Times Top 100 Graduate Employer: 13 years running
Britain's Top Employers: 2009, 2010, 2011 & 2012
Graduate Scheme details
We recruit for the McDonald's Graduate Scheme on an annual basis. The role is a structured but broad three year rotational scheme specifically designed for final year undergraduates looking for a career in finance.
Trainees spend their first 12 to 18 months in our Accounting Centre in Sutton Coldfield and then move to our Head Office in East Finchley, North London where they will complete their training. Each trainee is also given an individual mentor, personalised training, and will take part in quarterly development days, broadening their knowledge of McDonald's as a company.
Salary is competitive and full study support is provided.
How do I apply?