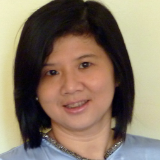 When I started my auditing career, I was lucky to join one of the – what was then – Big Eight audit firms.
Alfred and I were the most junior staff in the department in terms of age and work experience. In the beginning, our main tasks would be to collect audit files from the filing room located on the floor below our office for our seniors.
Analysing petty cash transactions using A3 columnar paper was another task that I quickly became involved with. Computers were not as widely used back then, so much of the work was done manually, including writing and casting. When the total for all the columns didn't tie up with the rows, it would be a challenge having to decipher the errors. This experience built up a strong determination in me to get the job done – as well as developing a keen eye for detail.
I went to work every day with a wish: that I would have a new assignment to do, something that I could learn and develop my skills, and was far more interesting than petty cash! I used to envy other colleagues who were graduates and would be immediately exposed to audit assignments and joined the seniors on visits to clients' premises.
However, I soon got my own break during the professional accounting exams period, when most of my seniors and colleagues took their annual, study and exam leave to prepare for their exams. After my own line manager went on study leave, her manager approached me directly to follow up on some outstanding audit matters that needed to be completed.
My career break
This was my golden opportunity! I was eager to learn – and, consequently, I put in a lot of effort and extra hours to deliver the tasks assigned to me ahead of any necessary deadlines. Inside, I had a real passion to learn, to perform and, most importantly, not to disappoint my line manager who had given me this chance. It was the busiest time and, yet, the most satisfying few weeks of my year.
Fortunately, I must have done a good job as, once my line manager returned to work after her exams, my responsibilities increased... Thereafter, life suddenly became very busy, but in a good way!
Increasingly, I began to look forward to going to work and I felt a sense of urgency to make up for – what I considered – those wasted few months in my first job. It was the start of an amazing career.
After working on a few more audit assignments, I started taking the lead on some. Sometimes, I was called back from an existing assignment and asked to work on a larger one. It was gratifying to realise the confidence my manager must have had in me to handle these tasks.
Now 25 years later, I can look back on a varied and rewarding career – one in which I've been an individual contributor, a manager, a function head and taken on a role in a senior leadership team.
Looking back, I can say that it is extremely important to have a manager who recognises your strength, works with you on your weaknesses and believes in you more than you believe in yourself.
Finally, my advice is to see an opportunity in every problem, not a problem in every opportunity.