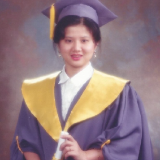 I remember my primary school teacher once asking my class to write an essay with the title 'My ambition'. It was something that caused much bewilderment and indecisiveness among my classmates. For me, however, it was easy: I had always wanted to be an accountant from the moment I was first introduced to maths.
A few years later, and then exam results happened!
My dream of being an accountant disappeared amid the anguish of my results not being good enough for a place at a local university. And, with my family not financially able to put me through a private university here or overseas, I suddenly realised the disappointment of not being able to fulfil my parent's dream of seeing me graduate.
With only limited options, I decided to set about getting a job. I eventually started as an assistant with a small insurance company, which helped to ease my disappointment while I was able to consider my next move. I was still determined to be an accountant, but was pessimistic about making it happen.

Ambition restored
A few months after starting work, I met up with a former school friend who suggested that I work with an audit firm and study for a professional accounting qualification on a part-time basis. She told me that by studying on a part-time basis, while working, I could apply to become a qualified accountant by the time I had completed my course and managed to acquire four years of relevant working experience.
She also told me that there were recruitment opportunities at an international audit firm and passed me the relevant contact details suggesting that I apply for a role. My ambition of being an accountant was suddenly restored!
Following a few job interviews, I received offers to work at an established bank and audit firm. The bank offered me a cashier position with a salary that was 20% higher than the audit firm. However, it was the audit firm that I went for, despite the lower salary. As my ambition was to be an accountant, I felt the audit firm would provide me with the more relevant training and experience I would need. In addition, the firm would subsidise my ACCA tuition costs.
In less than five years, I had completed the ACCA Qualification on a part-time basis while working at the audit firm.
My graduation ceremony was a true celebration for my family. My parents were immensely proud and took many photos of me in my gown!
To this day I am very grateful to my former school friend who gave me valuable advice just when I needed it most to keep my career dreams alive.
As a result, my mantra now is not 'it's possible, but it's difficult'. Rather, I like to think 'it's difficult, but it's not impossible'. Chase after your dreams!