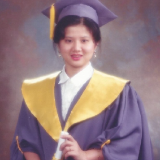 Why I chose to study ACCA
I was so happy to discover that it was possible to study for the ACCA Qualification on a part-time basis while working and that, once I had completed my studies, I could apply to become an ACCA member once I had undertaken enough relevant work experience. I could see that, potentially, I could become a qualified accountant much sooner than someone who planned to study full-time and graduate before starting work.

Juggling work and studies
Initially, I signed up to another accountancy qualification. However, I soon discovered that most of my seniors at work had studied ACCA part time. The general impression was that ACCA was geared towards service industries, and it was this that made me switch to ACCA.
My working hours were 8.30am to 5.30pm and I began attending evening classes three nights a week from 6pm to 9pm. Fortunately, my manager was very supportive and allowed me to leave the office half an hour earlier to navigate the challenging journey to my class, so that I arrived on time.
For those other two days at work when I didn't need to rush off to class, I would catch up and learn as much as I could. Sometimes I would even have to miss my evening classes if I had too much on at work.

Study leave
I used up all my first year of annual leave for my ACCA exams in December 1989. As well as the annual leave, I was granted study leave of five days for each exam. I could choose to use up all these five days for my first exam attempts or keep some in reserve just in case I failed and planned to retake. On top of that, I was also entitled to full day's leave on the actual day of the exam.
In addition to this, I could claim for my tuition fees and exam fees upon completion of the course level, which was incredibly generous of my employer.
During study leave, I wouldn't spend the entire day studying. Instead, I realised I studied better at night, when distractions were at a minimum. Thanks to a generous intake of coffee, I could remain awake until usually 3am, sometimes until 5am. I would then wake up late the following morning.
There was always a great atmosphere when everyone returned to work after completing their exams. There would be no classes for the rest of that month; the next classes would commence the following month and, so, it was great to be able to join my colleagues for after-work gatherings during this period.

My first exams
I passed four out of the five papers at my first exam session. I failed the law exam – but, to be honest, I never enjoyed the more theoretical-based subjects. They were my weakness. At secondary school, for example, I would either fail or pass only very marginally in history and geography tests.
My seniors at work were impressed with my results. And, considering I was a part-time student, I was also pleased with what I had achieved. My confidence levels increased.