Accountancy Futures journal
ACCA's twice-yearly professional insights publication
Edition 14 - June 2017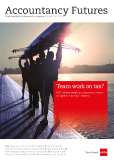 The 14th edition of Accountancy Futures focuses on trust and ethics. In the cover feature we look at the fairness of the international tax system, based on recent research carried out by ACCA, IFAC and our alliance partner CA ANZ among some 7,600 people across the G20 nations.
Elsewhere there are high profile interviews with Kofi Annan, diplomat and former secretary general of the UN; Rachel Grimes, IFAC president; IIRC chief executive Richard Howitt; and Pamela Monroe Ellis FCCA, auditor general of Jamaica.
This edition also looks at countering corruption in the MENASA region, enterprise risk management, shared services as a smart choice for aspiring CFOs and fintech. It also looks at smart cities, the rise of African entrepreneurs, the fourth industrial revolution, and the drivers of change in in the public sector.​
Read the latest edition by downloading our Insights app or online
Edition 13 - September 2016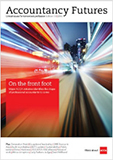 In the 13th edition of Accountancy Futures, we lead on ACCA's major new initiative 'Professional accountants – the future' and the report of the same name, which looks at how the main drivers of change could shape the practice of accounting over the next decade and beyond.
We also report on another piece of major research by ACCA in its survey of Generation Next. The milestone changes to the ACCA Qualification are also marked in this edition. In other articles, we cover ACCA's recent alliance with Chartered Accountants Australia and New Zealand. We also look at whistleblowing; BEPS action points implementation; taxation in Africa; sustainability; audit; hedonics; and tackling corruption in Africa.
We also have two high profile interviews with Lady Barbara Judge, chairman of the UK's Institute of Directors, and David Miliband, former UK government minister, now CEO of the International Rescue Committee.
Read edition 13 by downloading our Insights app or online