Promoting social mobility is not just the right thing to do, it also helps assemble a workforce better suited to today's interconnected and complex global economy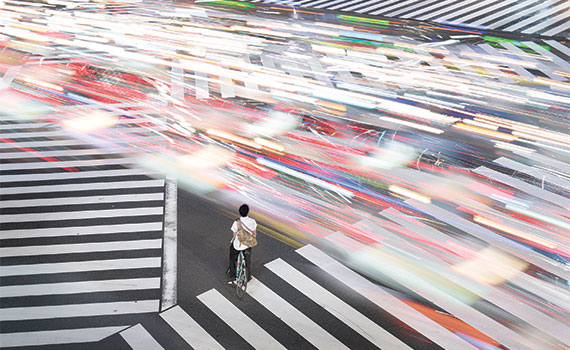 This article was first published in the March 2018 International edition of Accounting and Business magazine.
Economic development is providing opportunities for many individuals to realise their ability to live well and prosper in today's world. But despite economic progress, the world's least well-off citizens still lag significantly behind the more fortunate. What they need is access to opportunity, and that will happen only when economic development is fully inclusive.
Recent ACCA research says that social mobility is a business issue. The report, Purpose and the profession: the global challenge of improving upward mobility, credits social diversity with the ability to drive better decision-making – boosting profits as a result and, equally importantly, validating organisations' 'licence to operate'. If businesses are to navigate an era of volatility and complexity successfully, then they will need strategic leaders from a variety of socioeconomic backgrounds.
Economic growth means succeeding generations are better off than their parents: the proportion of the world's population living in extreme poverty is falling, while global literacy rates and income in many countries is increasing. But, says ACCA in its report, this progress should not blind us to entrenched inequalities between rich and poor. Inequality of access to opportunity is most starkly illustrated in the Great Gatsby curve, which shows the relationship between inequality and intergenerational social mobility in developed countries. This clearly suggests talent and leadership potential is wasted.
Equality and the professions
Professions can play a central role in addressing issues around access to opportunities. Doctors, lawyers, financial advisers and accountants wield power and influence, create societal norms and confer trust. But access to working in a profession can be extremely limited. Securing a well-paid professional job often relies on personal connections, costly qualifications and strong support networks. This in turn determines the characteristics of those who create social norms.
Can professions function properly and ensure a quality of livelihood for citizens – particularly the less well off – if they do not reflect the society in which they operate? ACCA's report argues that the professions should recognise that they hold an influential position in society and make it their goal to improve mobility.
Leaders of professions are important in determining how well their countries respond to economic changes and societal demands on a range of overarching, interconnected issues that are exacerbated by poverty and inequality. Those issues include climate change, migration, population growth, urbanisation, ageing populations and healthcare.
While the accountancy profession can help individual mobility by providing qualifications that are recognised across the world, it also has to be conscious of left-behind regions that may be deprived of the skills of qualified financial professionals. The accountancy profession can play its part in promoting retraining and infrastructure development, and enabling investment in these regions.
And by offering opportunities regardless of background, removing artificial barriers and advocating mobility to governments, the accountancy profession can make improving mobility part of its reason for existence.
For the profession, improving social mobility can go hand-in-hand with building dynamic and sustainable economies around the world. Actively engaging with the issue extends beyond lip-service and piecemeal corporate responsibility, and covers forging leadership in this area and demonstrating how social mobility can enhance performance. Some tangible steps recommended by the report are laid out in the box above.
If the accountancy profession can broaden to cater for a diverse set of career opportunities – from environmental accounting, computational thinking and data analytics – it can become a more relevant career choice.
While understanding social mobility issues is important, so is collecting data. For businesses to tackle the issue, they require evidence. This means collecting more social diversity data from employees to inform decision-making and increase diversity within a business so that it becomes a measurable part of strategic performance.
Professional bodies and practice leadership teams have a key role in actively engaging and advocating social mobility with policymakers across spheres such as education, planning, digital, finance and data/statistics.
ACCA members' views
ACCA was founded in 1904 in response to the closed-shop nature of the profession at the time. Perceived as accessible, ACCA was committed to opening up previously unavailable routes into the profession. Today ACCA is still working to remove barriers and raise awareness of accountancy as a career choice and the routes into the profession.
An overwhelming 92% of ACCA members and students believe career opportunities should be open regardless of social background. Of the nearly 14,000 members and students who responded to the survey, 74% view ACCA as accessible compared to other accountancy qualifications.
Thinking of their own personal experience 60% agreed that the ACCA Qualification has enabled them to access opportunities regardless of their background, while 29% said it was still too early to tell, or neither agreed or disagreed, suggesting there are still barriers to opportunities.
The survey did reveal a career advice gap: only 13% said they were influenced by a school teacher, university lecturer or career adviser in their choice of career; 56% said they decided for themselves. Clearly, the education system isn't promoting accountancy as a career. Although most started their ACCA studies when under 25, 15% began when they were over 30.
ACCA does appear to be enhancing social mobility. Some 52% of respondents' primary-income earning parents or guardians had, at most, completed secondary school or high school. When the ACCA member or student was aged between 11 and 16, 60% of the parents/guardians were in non-managerial or non-professional jobs.
The report suggests that the accountancy profession could play a leadership role by embedding an emphasis on social mobility into its own priorities. It says that addressing social mobility issues must not be an ineffective add-on but should be done in such a way that it is embedded in the profession's future. It can be strongly linked to the profession's unique distinguishing technical and ethical components, which remain important as global and technological developments create ongoing challenges.
Peter Williams, journalist
Open door
Respondents who said it is important that career opportunities are available to people regardless of their social background
Africa
96%
Asia Pacific
89%
Caribbean
97%
Central and Eastern Europe (CEE)
86%
Central and South America
87%
Middle East
91%
North America
95%
South Asia
86%
Western Europe
94%
Family background
| | |
| --- | --- |
| Africa | 51% |
| Asia Pacific | 56% |
| Caribbean | 78% |
| Central and Eastern Europe (CEE) | 23% |
| Central and South America | 60% |
| Middle East | 36% |
| North America | 48% |
| South Asia | 34% |
| Western Europe | 62% |
A word in your ear
Respondents who said that 'nobody' influenced them in choosing to pursue a career in accounting and finance, and that they decided themselves
Africa
50%
Asia Pacific
39%
Caribbean
52%
Central and Eastern Europe (CEE)
57%
Central and South America
67%
Middle East
49%
North America
50%
South Asia
51%
Western Europe
37%
"For the profession, improving social mobility can go hand-in-hand with building dynamic and sustainable economies around the world"
"Addressing social mobility issues must not be an ineffective add-on but should be done in such a way that it is embedded in the profession's future"