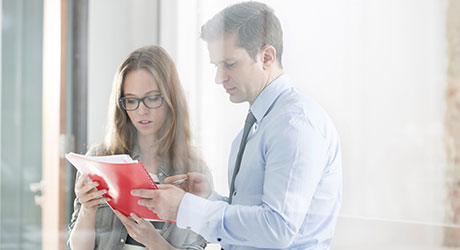 Introduction to the Level 4 Accounting Technician Apprenticeship
Our apprenticeship, which meets the Trailblazers Level 4 Professional Accounting Technician Apprenticeship standard, trains your apprentices to understand the structure and functions of different businesses. It also gives them the technical knowledge to support financial planning in a variety of business contexts.
The modules focus on real-life work scenarios and use the latest technologies, to ensure that your apprentices gain the practical knowledge they need. The programmes also develop transferable skills, including English and maths, to help progress careers.
What subjects does the apprenticeship cover?
The Accounting Technician Apprenticeship draws on the early units of our world-class professional qualification, giving your apprentices interactive lessons, and access to a tutor and an online community of fellow students.
Your apprentices will study and be examined on three subject areas:
Accountant in Business
Financial Accounting
Management Accounting
How is the apprenticeship structured?
To get an idea of how our apprenticeship is structured, download our diagram (PDF, 24 KB).
Duration
The Accounting Technician Apprenticeship takes a minimum of 12 months to complete.
During the apprenticeship, apprentices will take just three exams during their apprenticeship, before their final assessment, at a time when you and they agree is convenient and appropriate.
This allows you to ensure that exams and any study leave are compatible with the demands of your business, and means apprentices spend less time away from their day-to-day roles than on comparable programmes.
End-point assessment
At the end of the apprenticeship, when you are both ready, your apprentice will sit the Accounting Technician Apprenticeship Technical Role Simulation exam. This has to be at least 12 months after registration.
Their training portfolio, a separate assessment, comprising a training log and written reflective statement, will be reviewed and assessed.
Once they have completed all of the requirements, they can submit their portfolio to ACCA for review.
Ongoing development
Once they have been awarded the Trailblazers Level 4 Professional Accounting Technician Apprenticeship, apprentices can choose to go on to a number of flexible pathways:
gaining a BSc in Applied Accounting through Oxford Brookes University; and/or
an MSc in Professional Accounting from the University of London.
They can also choose to pursue ACCA chartered certified status, meaning that they could become ACCA chartered certified accountants within five years of beginning their apprenticeship.
By offering a route into this range of development pathways, you'll strengthen your employer brand, attract and retain talent, build loyalty and demonstrate your commitment to the highest professional standards.