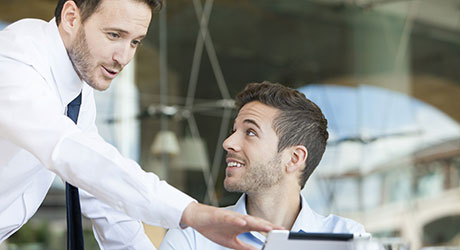 What is the ACCA Level 7 apprenticeship?
The Level 7 Professional Accountant apprenticeship is the funded gateway to ACCA chartered certified status and professional membership.
Equivalent to a Master's degree, it offers a powerful solution for you to build your talent pipeline and develop business leaders.
It's a platform for launching the careers and accelerating the development of top talent. The programme has been mapped to our flagship professional accountancy qualification. Both new hires and existing staff have a funded, flexible pathway to becoming fully qualified finance professionals.
Our apprenticeship focuses on complex business issues, as well as financial analysis, and offers the options of:
a BSc in Applied Accounting from Oxford Brookes University; and
an MSc in Professional Accounting from the University of London.
We anticipate that apprentices will typically complete the apprenticeship in 36 months. But this may vary with prior qualifications and relevant work experience.
Your apprentices can also choose to become an ACCA member after the successful completion of their apprenticeship. They'll need 36 months of practical experience, some of which can be gained on their apprenticeship journey.

How is the Level 7 apprenticeship structured?
Apprentices will learn the technical knowledge, skills and behaviours required for the Level 7 standard which has been set for employers by employers. This includes business insight, professional scepticism and leadership. Apprentices must complete both ACCA's Foundations in Professionalism module and the Ethics and Professional Skills Module to be able to understand and apply the relevant ethical standards to their own behaviour.
To understand how our apprenticeship is structured, download our diagram (PDF, 25 Kb).
The Level 7 Professional Accountant apprenticeship:
consists of two main elements, the on-programme assessment and the end-point assessment
follows ACCA's applied knowledge, applied skills and strategic professional level syllabus
offers in-job finance and accounting training and development for anyone over 16
takes a minimum of 36 months to complete
includes the technical skills and professional competencies required for business.
ACCA's Level 7 Professional Accountant Apprenticeship development areas
Your apprentice will gain the technical knowledge required by studying ACCA's units, but with their training they'll also gain invaluable skills in the following areas, delivered by your training provider:
Building relationships
Business insight
Communication
Ethics and integrity
Leadership
Problem solving and decision making.
Funding
Government reforms mean that employers in all sectors are now paying the apprenticeship levy if they have a wage bill of more than GBP3 million each year. In England, employers can access the digital apprenticeship service that allows them to spend the levy on apprenticeships. Other nations in the UK have the monies redistributed through the block grant and have their own methods of distribution.
The vast majority of employers are not eligible to pay the levy. However smaller employers continue to benefit from government support to pay for apprenticeship training.
There is a co-funding approach where they pay 10% of the costs and the government pays the balance. This means that:
Employers can access a maximum GBP21,000 to put towards training a Level 7 apprentice.
Employers who are not eligible to pay the levy can access up to 90% of the maximum (GBP18,900).
There is an additional GBP1,000 of funding for apprentices aged 16-18 years old at the start of the apprenticeship. There is also a further GBP1,000 of funding available for apprentices aged between 19-24 years old who have either an Education, Health and Care plan provided by their local authority or who have been in the care of their local authority.
Employers who are not eligible to pay the levy can access up to 90% of the maximum per apprentice (GBP18,900).
Assessment
The Level 7 Professional Accountant Apprenticeship consists of two main elements, the on-programme assessment and the end-point assessment. The on-programme assessment combines our Applied Knowledge and Applied Skills modules, along with our Strategic Professional Level modules.
The end-point assessment is a project report and ACCA's Strategic Business Leader exam, where apprentices need to demonstrate the right blend of technical, ethical and professional skills in the evaluation, synthesis and presentations of responses through the context of an innovative case study.
The Strategic Business Leader format will examine apprentices on all areas of accounting, plus strategy, innovation, risk and change management.
Flexibility
Whether your new hires or employees are school leavers, graduates studying in their own time or existing staff wanting to accelerate their financial career, our Level 7 apprenticeship offers the flexibility to allow your apprentices to move to ACCA at any stage, subject to our minimum entry requirements.
Your apprentices can also move to Level 7 having previously completed a Level 4 and/or 6 apprenticeship, allowing them to qualify for exemptions.