Businessman, whistleblower, passionate advocate for the profession and ACCA, Brian McEnery offers candid answers about his career, life and the lucky breaks along the way, as well as what it means to be a Council member.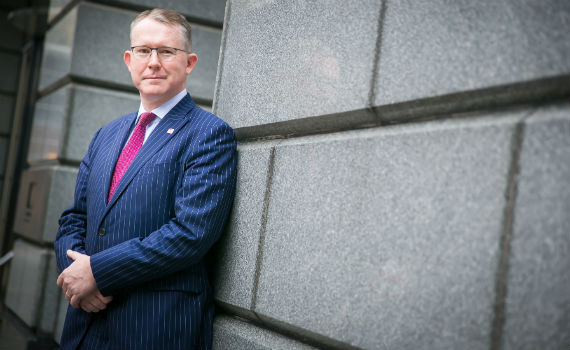 Let's start at the beginning - tell us about how you started on the journey to where you are now.
Ireland's school system has an equivalent of A levels called the leaving certificate. This system gives you a choice where you want to focus your studies, and which route to take.
One of these leaving certificate papers is in accounting - and believe it or not, I did not choose that one! I did economics instead, which I enjoyed - it was one of my favourite subjects.
But at the time, I was lucky enough to see what my older brother of four years was doing. He was working his way through the ACCA Qualification as I was doing my leaving cert. And I could see the benefits of the syllabus - it looked interesting and, in some respects, it gave me a big appetite for business generally.
So I decided to take the business route, rather than follow science or economics.
I made a conscious decision to take the ACCA path. With my brother, I could see that the ACCA Qualification had the core range of areas of study that I felt was going to suit me. I could see that my brother was on a clear path, and that appealed to me.
I didn't go to a recognised university but rather a dedicated business school. I started with the School of Professional Studies immediately after my second level in Ireland, after my leaving certificates. ACCA's open access is an incredibly valuable attribute, and it was a real pull for me. Ultimately, I am a beneficiary of ACCA's open access policy.
What would you say to someone considering accountancy as a career?
I'd really want to sit down with them and let them know how broad and wide the profession is - they need to understand that. I'd also want them to have a desire to do it. I'd make it clear to them that the role is varied - it's not all about extended trial balances and ledgers from morning until night!
I'd explain that this profession gives you a range of areas where you can work. When I came into practice, which is 22 years ago, I went into transactions and advisory work - I've never been in audit. I was amazed at the different aspects of advisory work, such as restructuring businesses, insolvency and business turnaround. There are a lot of opportunities available - from the sectors you can work in, to the policy and strategy work. And, ultimately, the work we do is always about people. It's also the people side of things that interests me a great deal.
So I'd say that accounting is a good career, and that you need to really think about what you like doing. For me, this role is motivational. I do the 10- to 12-hour days because I enjoy it, and do it without it having that Monday morning feeling! I have a varied week, and the ACCA Qualification has given me the skills set to handle this variety and enjoy it!
What are the challenges you've experienced in your career to date?
I'm a finance professional working in business, doing strategy. I am a problem solver. I plot routes to better outcomes, so challenges - and opportunities - come about all the time.
I have a team of about 20 people in the practice - some are ACCAs too. They are people who can find solutions to challenges. I think a lot of people who start the ACCA Qualification have a spark of this ability, but it brings it out to the fore. The syllabus is very well designed to draw out the right qualities, especially problem solving.
After I graduated, I didn't come into practice straightaway and worked in a travel agency business as their financial controller, for about a year and a half. I moved jobs, realising being a financial controller wasn't for me. I took a pay cut to move into public practice.
I very much welcomed the challenge to come into advisory and practice in 1995. Then around 1998, we received one of the biggest corporate restructuring jobs in the country. The head of that division left, and I was asked to take the lead on that job - with no background in restructuring and insolvency. This was a big challenge, and I wondered if it was right for me, handling businesses that are in trouble. I took the role on because it was needed. In retrospect, I am glad I did that - it gave me an opportunity to progress, and I enjoyed it. I look back with a great sense of satisfaction.
Another challenge was becoming a partner in BDO in early 2002. I knew I had to challenge myself to have a unique selling point as a partner in the firm. I knew I had to differentiate myself, and the challenge was not to follow colleagues into a crowded space.
I knew I had to have a specialism and become a centre of knowledge in my own field, and that was healthcare. I made the big personal commitment and investment to ensure I had the deep understanding of the healthcare sector and I am grateful that I now have clients around the country. I'm an advisor nationally.
I became interested in healthcare because at 17, I worked as a care assistant in a care home in the West Midlands for people with advanced dementia. I went back for three summers. In the second year, I faced a big challenge - I blew the whistle on wrong-doing. I needed to call it out. I am very conscious of the risk of being a whistleblower - it takes a lot to do.
This experience has set me in good stead. I am now the Chairman of Ireland's healthcare quality body, the Health Information and Quality Authority (HIQA). Those experiences of working in the home in my late teens has given me an insight to help me be a non-executive director at this care commission.
What are the opportunities you've experienced in your career to date?
Challenges become opportunities, as I've just explained. Business is critical to society, and accountants are key enablers - we're an important, critical cog in that wheel of business and economies, and that filters through to society.
At the HIQA, we conduct evaluation of the board members, including me as chair of the board. We get all the board members together and we conduct interviews.
Recently, the assessors asked, 'What would you see as success?' And for me, it's about the opportunities - that we make a difference to people who are healthcare users.
We have to try and ensure that through our work that outcomes are better for the users of service.
I keep on trying to challenge our executives - to say that this work is not about process, but also about outcomes. It is an improving experience where some of the big challenges get turned into greatest opportunities.
I strongly believe that what doesn't break you makes you stronger. You learn from your biggest challenges and use it as one of your skills sets, to be able to say I have been through that and I can advise you and take you through that path.
What does being a Council member mean to you?
It's important to me. I can remember one of the first International Assemblies I went to with ACCA. I got involved with ACCA soon after graduating - it's been the biggest shaper of my professional career.
But I still have loads to learn.
The day I went to International Assembly as a member, I was very proud and delighted to see the operations of ACCA, of how the organisation worked to support members and students. I'd been involved in ACCA in Ireland and what was then the district network - Munster and Connaught. I was Irish Regional President in 2009. What I got at that level was visibility of skills sets, from chairing meetings to giving speeches and being an advocate for ACCA.
I've taken that experience into Council. It's like being a non-exec director for a multinational. I sit on the Market Oversight Committee and what I see there are the challenges, risks and opportunities of being in 180 countries.
But it's an immense privilege to be able to do this work for ACCA, for what is effectively a large, multinational operation. I'm nine years on Council where I have learned so much - from what good governance is to how to improve strategy to how to do change management, how to work on committees on a global basis. I've learned about strategic planning and taken problem-solving approaches to what we face.
I've learned to work together, to be open minded, to be part of a collective - this association is after a big collective. Council members can't be egotistic or seek personal recognition. We're here as trustees and to use our experience for the good of ACCA.
The role of a Council member is to represent our global members right throughout the world and our students too. We have to do the right thing and knuckle down to it. It's been a great learning experience, and I'd say to any member, 'Stand for election. Join in if you have the time and dedication.'
What does being a member of a professional body mean to you? Why does professionalism matter?
We need to understand what being a professional means. For me, it's integrity, competence, good communications skills. It's important that ACCA ensures the development of competent people. The level and relevance of our qualification does that. It gives people the modern skills sets demanded today, plus the relevance. Being a member of a professional body and being a finance professional also means being trusted - that our skills and knowledge, our ethical approach all equates to trust.
What is the biggest issues facing the profession now, in five and in 10 years' time?
I go back to what I've said - trust. We need to make sure we learn from the mistakes of the past, and I'm very mindful of that having been through the Irish downturn.
What does public value mean to you?
Public value is about ensuring mistakes do not happen again.
For me, this goes back to what I said about professionalism. We have to remember that professional bodies in many societies are privileged to have a regulatory and supervisory role. We must hold that role dear and value it. After the financial crisis, the profession was lucky enough to come out less scathed than we could have.
Looking back to the global financial crisis of 2008-09, I was Irish regional president for ACCA. In this role, I met some wonderful and influential people. Three nights in a row, I sat down with the then Irish finance minister, and on the third night, he said there will be a number of opportunities coming up. He could not share details at the time.
Then a few days later, my wife asked if I'd heard the minister on the breakfast radio news programme. He'd announced the setting up of a 'bad bank' to handle the non-performing loans to bring about bank liquidity. He was going to establish the National Asset Management Agency (NAMA). Applications were open, and so I applied, as I knew I could help, and I was appointed to be one of the seven directors. I've been on the board since 2009 and was reappointed by the new minister recently.
We'll have our job done soon and will make a profit, but I am so mindful of the devastation that happened as a result of the crash. I've seen what bad practice and weak prudential controls can do, and we have to be mindful it doesn't happen again.
We run the risk of not addressing the issues head-on again. If we don't do things sufficiently, then we could be caught out again. As auditors, I think we shouldn't look for a second escape - we should deal with the underlying systemic issues, as the cost of failure is just too high.
What's the biggest misconception about the work that you do?
That accountants are not strategic. I want more people to know just how strategic we are, much more than they realise. I look at my team and I see how strategic they are. They are advisors. They are adept at a great number of things. The role of an accountant or finance professional is only limited by how far you want to take it yourself.
Who has had the greatest impact on your career development and why?
I have a mentor. He's 10 years older than me and has been very helpful to me in my career - someone I can turn to and ask questions, run things past him. He's now Ireland's European commissioner, and his portfolio in Europe is agriculture. We trust each other. He offers good advice and good guidance - he's a shrewd individual, a leader, and decisive. I am lucky to have him as someone to help.
I also like to offer advice and provide judgement too. Every finance professional needs to cherish the fact that someone - from a SME owner or a CEO of a FTSE 100 - will put a premium price on our judgement.
Why do you continue to be an ACCA member?
It's my passport to success and it's always been. For me to be able to say I am an ACCA member makes me proud. The day I became an ACCA member was one of the biggest days of my life.
Tell us about a career-defining moment.
Truly, it was becoming a member. In the vast majority of things, I have to say I have been very lucky. Some of the avenues that have come my way have been very unexpected but welcome. Not no regrets, but honestly few enough, for sure.
What's the most important part of your role on Council?
It's about alignment and balance - to ensure that we are aligned with the executive team, that we co-create the best strategy and drive forward with great positivity.
It's also about creating the balance between being a representative of the membership and being a trustee/NED. It's important in my role to challenge the executive team but always with the aim of being on one bus - the ACCA bus - and getting on the same journey.
My role as a Council member and as incoming president is that I believe in the executive team. There's a phrase in Irish - 'moladh an oige agus tiocfaidh said' - 'praise the young and they will thrive'.
I and Council should be happy to praise and thank our executive team in a no-blame culture such that we move forward with positivity, like a youngster being praised. So being in Council is about being a partner to the executive, so we all achieve the opportunities, face down the challenges and be dynamic.