David Parmenter's lean finance webinars
Set your organisation and career on the pathway to success with these lively, thought-provoking webinar sessions.
About David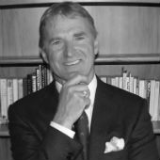 David Parmenter is a writer, world expert and an international presenter who is known for his thought-provoking and lively sessions that have led to substantial change in many organisations.
He is a leading expert in the development of winning KPIs, replacing the annual planning process with quarterly rolling planning, and management and leadership practices that will get you to the top.
With over 15 years of experience, his stated vision is to "change how leading organisations, around the world, measure and manage performance - by 2030".
Webinar series
We are pleased to announce that David will be presenting a series of lean finance webinars for ACCA members, available to book now.
Select a title to find out more about webinars in that series.
Live webinars
Please check back for live sessions, in the meantime please view our list of on-demand sessions below.
Lean planning and forecasting for the 21st century

Overview

Annual planning, the two to three month drama, is anti lean and is preventing organisations from being future ready. Learn how lean organisations have been able to produce the annual plan quickly, in less than two weeks, and eventually replace it with a quarterly rolling planning process. Discover how rolling forecasting is the key to help make this happen.

This three-part webinar series will enable you to recognise the need for change, formulate a strategic way forward and re-design your planning and forecasting so they play a bigger part in getting your organisation future ready.

Quick month-end reporting in three days or less

Overview

Does your month-end reporting take more than three days? Are the monthly management reports too large and with errors? David Parmenter has yet to find an organisation that cannot achieve 'day three' reporting when applying his methodology.

This two-part webinar series will enable you to complete your month-end error free within three working days, have peace of mind knowing your reporting process is robust, adopt agile techniques to re-engineer processes and use technology for more gains.

Key Performance Indicators: An introduction to winning KPI's

Overview

Many companies are working with the wrong measures, many of which are incorrectly termed key performance indicators (KPI's). Companies with 20 or more KPIs have a lack of focus, lack of alignment, and under achievement.

This two-part webinar series will enable you to identify the difference between various performance measures, implement winning KPI's using an effective six-stage process and recognise and implement your organisations critical success factors (CSF's).
Have you read AB Magazine?
David has written over 15 articles for Accounting and Business magazine.

Subscribe now and keep yourself up to date with all the latest developments.