Jacinta Lambert FCCA describes the satisfaction of working for Medtronic, a company that changes lives as well as playing a key role in Ireland's medtech sector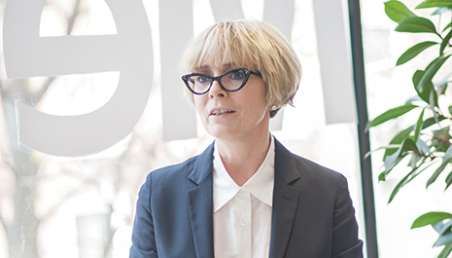 This article was first published in the June 2016 Ireland edition of Accounting and Business magazine.
The Silicon Docks may grab more headlines and financial services may employ more people, but Ireland's medical device (medtech) sector must rank as one of the country's great business success stories. Employing more than 27,000 people – one of the largest concentrations of medtech professionals in Europe – it boasts annual exports of €8.5bn and accounts for 9% of total Irish exports, according to The Irish Medical Devices Association.
Its particular focus on R&D and innovation has also created a rich research ecosystem in which service companies, startups and third-level institutions can thrive. Also, unlike the social media and financial services giants, med-tech's focus on manufacturing lends itself to a broader geographic spread. In all, 18 of the world's top 25 med-tech companies are located in Ireland, providing lucrative employment opportunities in towns and cities across the country.
Among these global players, Medtronic stands preeminent. One of the world's largest medical technology, services and solutions companies, it has more than 85,000 employees around the world and a major presence in Ireland. Last year, it opened a new chapter in its relationship with the country when its decision to domicile here made it Ireland's largest company. That move, as part of a US$49.9bn acquisition of the surgical supplies group Covidien, resulted in the creation of a business with a market capitalisation of over US$100bn the day it began trading on the New York Stock Exchange. (By way of comparison, CRH and Ryanair, which jostle for the title of Ireland's largest indigenous business, have valuations of around €17bn each). The new entity employs more than 4,000 employees across six sites in Ireland, engaged in education, R&D, manufacturing, sales and customer care.
Joining Covidien as director of finance in 2009, Jacinta Lambert FCCA cut her teeth in the area of domicile almost immediately, helping to establish the company's new executive headquarters in Dublin a year later in the Hatch Street offices where Medtronic's principal executive office is now based. Following the integration of Covidien with Medtronic five years later, she retained the role of director of finance for the new parent entity, Medtronic.
The announcement of the acquisition was first made in mid-2014 and was followed by six months of intensive review and regulatory approvals that concluded in the new Medtronic in January 2015. Some 18 months later, Lambert says that that process of coming together is now reaching its conclusion. 'This is a very large, global organisation and there is a lot of work still being done, but in terms of achieving our aims, particularly around ensuring no loss of business on the strength of the two entities combining, it's been extremely successful,' she says. 'What was most important, strategically, was that patient outcomes would be maintained and built upon, and I think that's been achieved.'
Broader view
At both a professional and personal level, the process has been an extremely rewarding one. 'It's given me exposure to a wide variety of fantastic colleagues and allowed me to have a broader view of the corporate world,' she says. 'You become very compliance-conscious in terms of ensuring that everything is done right. You want to be sure you are doing the right thing from a compliance point of view and that you are ticking all the right boxes.'
The value of teamwork is stressed by Lambert and it's an approach she extends to her broader work. 'I've » been very fortunate to work with people who were very generous with their time and their knowledge. I think that's really important with a manager in particular, because what they are willing to share with you, you can then share with other people and that allows everyone to get on with their job.' She believes that support and trust are essential qualities for managerial roles. 'You have to develop the people around you and make sure they are where they ought to be,' she says. 'That allows you to be where you want to be. If you don't have a team that you trust or a team who don't trust you, then you won't get anywhere.'
The experience of integration also confirmed what Lambert says is an enduring view that accountants need to think beyond the numbers as their careers develop. 'In a role like this, it's not just about accounting,' she says. 'Tax, compliance and the company secretariat role all come together and shouldn't be looked at separately. I've seen this approach work very well here and it lends itself to other parts of life, too, in terms of being organised, taking responsibility and paying attention to detail. You have to be accountable for what you are doing. If you can account well for what you've done, you're in a good place.'
Global framework
Medtronic's operational headquarters are in Minneapolis, Minnesota, while the principal executive offices are in Dublin, which among other activities hosts the CEO and board of directors meetings. It's a dynamic that fits perfectly into the global framework of the company, Lambert says. 'The board are very conscious of Ireland and what's happening here since becoming an Irish domiciled company. We are an international company, with a presence in 155 countries, so travel is a constant for these executives. Aside from the issue of time zones, it never feels that there's a gap.'
Through the merger, the company also outlined plans to shift its strategic direction from being 'product focused' to 'value focused'. 'Medtronic is on a journey from being a medical device supplier to being a solutions provider,' Lambert explains. 'The company now provides services in addition to devices, so, for example, collaborating with hospital administrators and physicians to provide services directly to patients is becoming part of the new way of approaching healthcare. Our CEO talks about value-based healthcare, which is around payment for outcomes rather than for devices, and making medical devices part of the entire ecosystem of improving patient outcomes. So it makes it a very visionary and exciting time to be part of Medtronic.'
Staying cost competitive in manufacturing is a challenge of any Western economy, so how does Ireland manage to sustain continued high levels of investment, given low-cost competitors are snapping at its feet? 'When I hear executives talk about investing in Ireland, the things that come up most regularly are the "three Ts": tax, talent and track record,' Lambert says. 'In terms of tax, we have a progressive business environment that makes planning easier. The talent pool in Ireland has remained strong and competitive over the years, and the track record of our facilities, in terms of the projects and the challenges they are given, is excellent and has been rewarded with expansion over the years.'
Working at the corporate executive level may be a step removed from the immediacy of hospitals and healthcare facilities, but Lambert says there is huge satisfaction at all levels of the company in the role they play. 'The company is focused on delivering ground-breaking technology on a daily basis and on improved patient outcomes with minimally invasive technologies. All of us feel great pride in being part of this.' That experience was brought close to home when Lambert's daughter was in hospital recently and given a nebuliser with the Covidien logo on it. 'She pointed to it and said "Mummy". That made me feel really emotional – the fact that the company I was working for was actually helping her in this way.'
Career flexibility
A Wexford native, Lambert studied transport management in Rathmines College following her Leaving Certificate. 'I was getting straight As in accounting and thought maybe I should be taking some note of that,' she says. Having completed the Association of Accounting Technicians (UK) course, she began studying for the Qualification while working, doing the exams at night – 'something that definitely requires commitment,' she recalls.
Key to the appeal of ACCA was a sense of flexibility and mobility. 'It has an international quality about it, but it is also flexible in terms of how you get the Qualification,' she says. 'It's something that I'm really glad and proud that I did. Throughout my career I've always believed you need to keep learning and ACCA has given me the scope to look at other things outside of accounting.'
Work with a startup in the area of software localisation, including video games, led to Lambert's first experience with acquisitions and mergers. 'The company was bought out by a multinational and so I went through my first integration with the executive management team of the acquiring company,' she recalls. 'It was a great experience and it really allowed me to see what the future would bring.' Later, working in the world of reinsurance provided a completely different perspective on accounting. 'I was dealing with a very different industry as it was going through a period of change. It was a sector that had been doing really well and suddenly it was all about reserves, so that brought very rounded exposure to a range of issues.'
Joining Covidien Group in 2009 brought a fresh set of experiences and responsibilities as the company began to change domicile. 'Covidien was very excited about establishing itself in Ireland, so it was really important that we had everything in place to make that happen,' she says. 'My role was to establish the principal office in Dublin and build a team. It was a really exciting opportunity and, had I sat back and thought about it, I might have thought I couldn't do it.'
Five years later, Lambert says the success of the 2015 deal, which was the largest transaction in Irish M&A corporate history, lay in 'the desire on both sides from the beginning to make it work and the very collaborative approach taken. It has been a great privilege to be part of this and I don't think it's an experience you could replicate very easily.'
Looking to the future, she sees 'other areas and opportunities I can contribute to within Medtronic, so I feel very fortunate in that respect'. She also believes that the strengthening of the company's relationship with Ireland will benefit the country in years to come. 'Covidien had a presence in Ireland for some 30 years, while Medtronic acquired its first facility in the 1990s, so Ireland has been embedded in the businesses for a long time,' Lambert says. 'In many ways, we are just another layer to that. I'd like to think there is a great history of Irish people contributing to both companies and that this influence will continue with the executive office now located here.'
Donal Nugent, journalist
"The talent pool in Ireland has remained strong and competitive over the years"