Nigeria's music industry is riding high on a wave of digital innovation, and with proper investment and regulation could make a big contribution to the national economy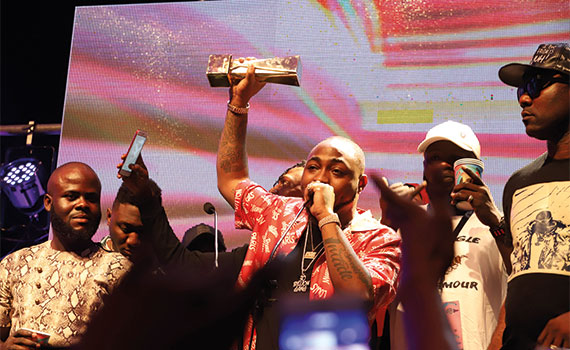 This article was first published in the April 2018 African edition of Accounting and Business magazine.
Nigeria's music industry has made significant strides over the last two decades, and is now arguably the most vibrant music sector in Africa. It has the highest number of internationally successful and decorated contemporary music acts, such as 2Baba (2face Idibia's new stage name), Asa, D'banj, Tiwa Savage and Davido, to mention a few. More recently, Afrobeats star Wizkid was the only African and the first Nigerian in the best international act category of the 2017 Mobo Awards (which he won, as have Rihanna, Eminem and Beyoncé), alongside international stars such as Jay-Z, Kendrick Lamar and Drake.
The vibrancy of Nigeria's music industry has also had a sizable economic impact. PwC's Global Entertainment and Media Outlook 2017-2021 forecasts that revenue from the sector will hit US$73m by 2021 (making it the biggest in the region bar South Africa, for which PwC forecasts a 2021 revenue figure of US$237m).
A major chunk of the Nigerian figure comes from digital consumption, an area of the market that significantly boosted the industry in Nigeria and paved the way for more local artistes to play in this space. Digital music consumption and revenue overtook physical music revenue in Nigeria as far back as 2013, and its growth forecast remains healthy and steady.
The supply chain has undergone a major shift, globally as well as in Nigeria. Prior to the digital era, channels to market were typically physical retailers, analogue radio, public performance, films and TV. The delivery channels have now expanded to include digital downloads, on-demand streaming and digital radio.
According to recording industry trade body IFPI's Global Music Report 2017, global recorded music revenues increased by 5.9% in 2016, with 112 million users of paid streaming subscriptions driving streaming revenue growth of 60.4%, and digital income accounting for 50% of global music industry revenues.
In Nigeria, nearly 99% of digital music revenue is driven by mobile, much of it as ringtones. The figure is expected to rise even further over the next five years, while download revenue is expected to dwindle and streaming revenue to remain low.
Democratisation
The digital shift has helped to democratise the industry, reducing record labels' negotiating strength and removing the need for the suffocating record deals that historically have enriched the labels more than artistes. Popular record labels in Nigeria include Mavin Records, Chocolate City and Empire Mates Entertainment, but artistes such as Wizkid, Davido and Olamide are as big as the labels, standing on their own and running their own groups, powered by talent, popularity and huge followings across the continent and beyond. Artistes are able to generate revenue from their music through live performances, endorsement deals, merchandising and album sales via digital platforms such as iTunes, Tidal, Spotify and Spinlet. In addition, Nigeria's mobile network provider MTN has launched the MTN Music Plus platform, which allows artistes to offer content for sale to its mobile network customers.
'The music industry is changing globally, and Nigeria is not left out,' says Tomi Owó, fast-rising soul singer-songwriter from Nigeria. 'There are a lot more opportunities for artistes to distribute and sell their music now than a decade ago. The emphasis on record label deals for music distribution is dwindling, and tilting more towards well-rounded management deals that help artistes maximise monetisation opportunities for their talent and enable their career growth.'
But making music pay could become a struggle, as Nigerians increasingly expect to access music for free. Dare Odumade of digital distributor Sharebunk says: 'Today, online music platforms have replaced CD sales, as people largely download free music off the internet to populate their playlists on their smartphones, iPods or mp3 players for music on the go. Nigerians love music on the go so much they change their internet IP addresses to US IPs in order to use geo-restricted music apps like Spotify and Pandora, regardless of complaints about poor and expensive internet connections. Stakeholders in the music industry need to figure out how to encourage Nigerians to start forming a habit of paying for music, otherwise artistes won't benefit fully from their intellectual property.'
The internet has brought new and legal ways of distributing, promoting and marketing music without geographical constraint. Nigerian entrepreneurs (some of whom were in business before the 2013 arrival of iTunes in the country) have leveraged their knowledge of Nigeria's music sector to outsell the bigger, global platforms locally. Music streaming platform Spotify is not legally available in Nigeria, so there is an opportunity for local entrepreneurs to tap into this market too.
Spinlet is one of the early birds to the digital distribution space in Nigeria and claims to have the world's largest catalogue of Africa-centric music. Others looking to get a share of the market include music streaming app Sharebunk, which is currently beta-testing the Android and iOS platforms and has incorporated a social networking and messenger component.
So far, Nigeria's music industry has advanced without a clearly established structure, but this has not deterred foreign interest. In the past two years, two of the world's biggest music groups, Sony Music and Universal Music, have set up offices in Nigeria. Sony, which came in a year earlier than Universal, has already signed deals with up to seven top Nigerian musicians.
Although these entrants will open up the music industry in Nigeria to more opportunities for global expansion, it might take some time for them to fully grasp the peculiarities of the local market, especially the piracy challenges. Much like Nigeria's Nollywood film industry, the music scene is plagued by piracy. In fact, Nigeria's legal music sector is comparatively small given its population of 190 million – by far Africa's biggest.
The value gap
Despite the increase in paid-for digital music platforms in Nigeria, there remains a mismatch between the value these platforms derive from the content available to them and the revenue that gets back to those who create and invest in the music. This value gap is the sector's biggest challenge.
Under the current revenue-sharing formula, the platforms take up to 90% of sales revenue, depending on the artiste's popularity and 'star-power'. IFPI has identified the value gap as the most significant obstacle to the sector's sustainable growth. In the European Union, for example, the European Commission is already working on a legislative fix, but in Nigeria the government has had little involvement in the music industry.
Nigeria's music sector has huge potential. If the growing revenues and foreign interest snag the attention of government and local investors – as was the case with Nollywood – music could become a big part of the economy. But that will not happen without action on a number of fronts. Greater investment in artistes will improve the quality of the product. But action is also needed on the part of government, to establish structures to facilitate enabling services for the industry, as well as regulations to protect the value of music and establish a fair digital marketplace.
Kingsley Iweka, founder/editor of AfricaOnTheRise.com, based in Lagos, Nigeria
"The emphasis on record label deals is dwindling, and tilting more towards management deals that help artistes maximise opportunities for their talent"