As businesses consider new ways of working in a post-pandemic world, small, medium and micro enterprises are especially vulnerable, says Nooredin Mohit FCCA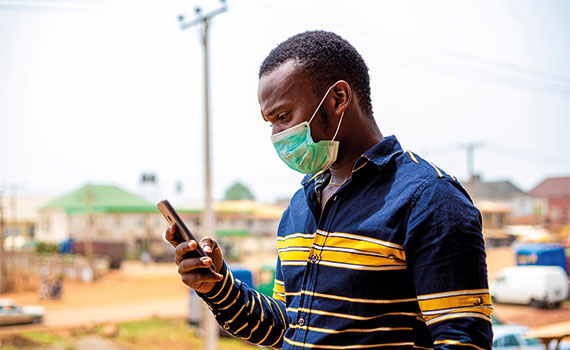 This article was first published in the July/August 2020 Africa edition of Accounting and Business magazine.
As many countries in Africa emerge from lockdown, the focus has shifted away from health concerns to the impact on businesses and employment. With the UN's World Economic Situation and Prospects as of mid-2020 report predicting that regional GDP for Africa will shrink by 1.6% in 2020, small, medium and micro enterprises (SMMEs), many of which have insufficient reserves to sustain them, are especially vulnerable to any slowdown, amid drastically reduced sales and credit defaults among customers.
In the face of such challenges, the pressure is well and truly on SMMEs to demonstrate resilience by adapting to the new environment and remodelling their businesses in light of the current context. The following eight steps with help you prepare to adapt to operating in a post-pandemic business landscape.

Redefine objectives
The priority should be first to 'stay alive' in business and then to prepare for recovery, so redefine your immediate and medium-term objectives. This will ensure that resources are deployed efficiently and avoid the frustration of not achieving unrealistic objectives.

Reconnect with clients
This is a no-brainer as Covid-19 has led to us having to change many of our habits and social patterns. Listening to your clients' needs and understanding the issues they face will not only give you valuable insights on the market and potential new business opportunities, but also lay the foundation for a sustainable business relationship in the long term.

Reinvent the business
Resilience is key to survival, so be ready to reinvent any aspect of your business according to the needs of the market. As we get over the pandemic, we have already started to see glimpses of the 'new normal': social distancing is causing cafés and restaurants to offer home delivery services, retail outlets are adapting their product mix, and the benefits of working from home are more likely to encourage organisations to continue in this mode. Innovation powered by technology will be crucial for survival.
Reforecast the financials
Cash is the lifeblood of any organisation – no cash, no life. It is absolutely necessary that you have visibility of what your monthly financial situation will look like, at least over the next year. This should then lead you confidently through any decision-making process involving cash, whether it's cost reduction, renegotiating payment terms or securing external finances.
Should you still foresee a cashflow strain, you may need to access external funding or financial relief and support schemes, if any, provided by your government; the impact of capital repayments on your cashflow should also be considered.

Reduce costs
You should aim to optimise on all resources, including cash. Reduce unnecessary costs, keep structures lean and mean, spend wisely and prioritise expenditures. As a general rule, you should be able to see how all expenditure is contributing to both the top and bottom lines – every penny should be justified. This should also give you headroom to pass on part of the efficiency to your clients, therefore improving retention.

Renegotiate with partners
Renegotiate contracts, payment terms and repayment plans with suppliers, lenders and other business partners to reduce costs and reduce strain on cashflow. With the economic slowdown well under way, enterprises that take a long-term view and position themselves to benefit from the recovery will find it worthwhile to accept a short-term drop in margins in order to ensure the survival of business partners and to retain them for the longer term.

Retain people
Hold on to your most valuable assets: your people. A common mistake during an economic slowdown is to let go of people in an attempt to reduce costs, which later proves to be a misguided decision. The expertise, experience and knowledge of your business, if translated into monetary terms, would probably represent your most valuable investment on the balance sheet; letting go of your key people is synonymous with writing off that investment. Retaining and supporting your employees will keep morale high and ensure that you have sufficient numbers to make the most of economic recovery when it comes. The experience of your employees can constitute valuable information that will help you manage the crisis better.

Reassess risks
Hope for the best; plan for the worst. Health experts have warned that the possibility of a second wave of the pandemic is real. As you go through your survival plan, never lose sight of the wider risk environment, and do devise risk mitigation strategies. Covid-19 has highlighted the importance of business continuity planning, a fundamental support that many SMMEs do not have in place. Experience has shown, for example, that retail businesses that had established e-commerce platforms before the crisis were able to act quickly to offer home delivery, which put them ahead of the game.
With the economic impact of Covid-19 expected to be the worst since the Great Depression of the 1930s, the survival of tens of thousands of SMMEs across the continent is under threat. Enterprises should make the most of the lessons learnt, be risk-conscious and ensure that they have mitigation strategies in place.

Nooredin Mohit FCCA is CEO at AMG Global, Mauritius