Narayanan Vaidyanathan, Head of Business Insights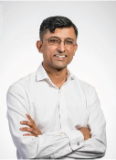 Narayanan leads ACCA's futures research, and focuses on how future trends will impact business and the accountancy profession. His area of focus is emerging technologies, and technology policy. He has led ACCA's work in machine learning (artificial intelligence) and other emerging technologies like blockchain.
Related to emerging technologies, Narayanan also represents ACCA in policy areas such as digital ethics and human-centred technology (for example: the role of emotional intelligence for workplace effectiveness in a digital age). He is ACCA's staff expert for the Accountancy Futures Academy Global Forum, and represents ACCA on government, industry and academic forums such as an all-party parliamentary group in the UK.
Narayanan has developed and delivered CPD training sessions to many thousands of accounting and finance professionals – in both face-to-face and online formats. He has presented to delegates in small, medium and large organisations, private sector and governments, and in over 20 countries including both emerging markets and developed economies.
He has a global remit for the topics he covers, and inspires a team of subject-matter and policy experts to explore specific future trends across a range of areas. These include ACCA's policy positions on the outlook for the global economy, future business models, sustainability, and social mobility, as well as sector specific insights, in relation to the public sector and financial services.