ACCA Virtual Careers Fairs
Powered by ACCA Careers – the global employability site for accountancy and finance professionals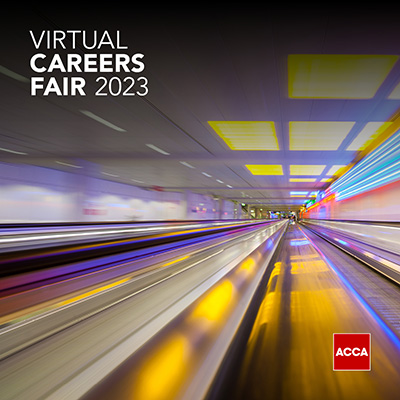 Since their launch in March 2020, ACCA Virtual Careers Fairs have been successfully run over 36 times across many markets spread across all of our geographical regions.
So far, the fairs have collectively attracted over 153,000 registrations from our professional community of members, future members and prospective students, all keen to experience the innovative way that ACCA digitally connects this talent with our global network of employers.
Over 2,290 companies have taken advantage of this new format, as they continue to seek ACCA talent, resulting in 150,000 job views via the ACCA Careers job site, leading to a staggering 41,000 unique job applications.
The fairs also benefit attendees by providing a range of practical employability advice, featuring live expert led webinars, articles, videos, live chats with ACCA representatives and employers covering topics such as interview skills and CV writing.
The networking suite allows candidates to connect with employers by video call, telephone call and text message.
Look out for an upcoming invitation to a Virtual Careers Fair for your region, designed with your career needs in mind, as these events now become a permanent fixture in the ACCA calendar.
In the meantime please visit ACCA Careers to search and apply for jobs at your level, and benefit from our extensive careers advice section.