For Felix Mutati FCCA, Zambia's minister of works and supply, political popularity has always taken second place to getting the financial fundamentals right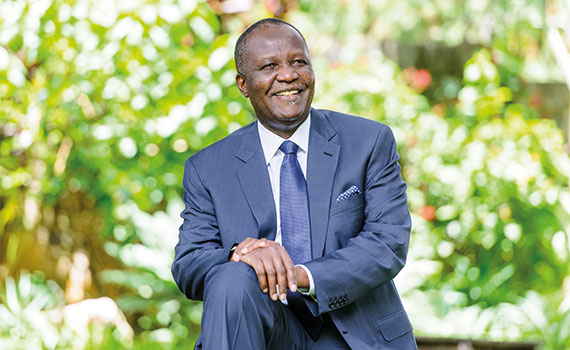 Prudence is a watchword for Felix Mutati FCCA, who became Zambia's minister of works and supply in February. 'My work in government is founded on the firm belief that you cannot spend money that you don't have,' he says.
Elected to parliament in 2001, he served as a cabinet minister for various portfolios including energy and water development; commerce, trade and industry; and finance, before assuming his current role in works and supply.
Despite the populist pressures exerted on most African politicians, Mutati distinguishes himself as a professional. He is among the few African politicians who refuse to play to the gallery when dealing with his country's economic affairs. In a country where populist politicians compete to outsmart each other over who has the best solutions to the economic woes that beset the country, Mutati speaks candidly, even if it threatens his own political fortunes.
President Edgar Lungu, whose Patriotic Front has a majority in parliament, appointed Mutati to the ministry of finance in September 2016, despite Mutati being head of the Movement for Multi-Party Democracy (MMD), which had been Zambia's dominant political party between 1991 and 2011.
At the time of his appointment as finance minister, Zambia's economic future looked uncertain. In his inaugural 2017 budget, Mutati said: 'Turning the economy around requires that we make hard choices and implement difficult reforms. We are all agreed that the task of restoring stability and accelerating growth will not be easy. We have to be bold and decisive.'
During his 17 months as minister of finance, he championed a fair tax system, and led reforms to restore prudent financial management. In his current role at the ministry of works and supply, he keeps the faith with financial prudence: 'What really matters is getting a balance to ensure fiscal fitness while responding to the people's needs. We need to ensure as much as possible that we elevate the quality of service delivery while offering value for money.'
He points to the progress made towards achieving the five pillars of Zambia's economic recovery programme. The macroeconomic environment in 2017 improved relative to 2016, with GDP growth for the year projected to exceed 4%, which Mutati attributes to positive performance in the manufacturing, mining and agriculture sectors. In addition, inflation fell back to 6.1% from 6.3%, and the foreign exchange rate and budget deficit of 6.8% remain relatively stable. He says that the government's continued structural reforms across business sectors have been key to economic stabilisation and growth.
International roles
As minister of commerce, trade and industry from December 2006 to September 2011, Mutati held a number of influential positions in regional trade organisations, including the Southern African Development Community (SADC) and the Common Market for Eastern and Southern Africa (COMESA), coordinating international efforts to harmonise trade and investment within the region and leading negotiations for trade and development agreements with the European Union. He also acted as coordinator of the least developed countries (LDCs) at the World Trade Organisation.
Prior to his political career, Mutati also worked in a variety of roles in business. He held posts at parastatal organisations including Zambia Electricity Supply Corporation, Zambia National Hotels Development Corporation and Zambia Industrial and Mining Corporation (Zimco).
But regardless of whether his post is in business or politics, he says his work ethic is always guided by the accounting profession's strong core values of integrity and professionalism. 'In terms of my contribution to enhancing public values and national development, my focus has been on bringing about change in the management of public resources,' he explains.
The profession progresses
The accountancy profession has been evolving in Zambia, with Mutati – recently named ACCA Advocate of the Year for 2017 – instrumental in the passage of accounting legislation. He praises ACCA for its contribution to the development of regulation and accounting education in the country: 'ACCA has helped in growing the accounting profession over the years. In 1985, it signed a joint examination scheme with Zambia Institute of Chartered Accountants that offered over 10,000 Zambians with technician qualifications an opportunity to obtain a professional qualification.'
He adds that ACCA has supported Zambia in its review of accounting legislation and the strict observance of standards and codes.
'ACCA's vision to have members who are world leaders in the profession through their skill and the impact of their contribution is realistic and attainable given the pivotal role that professional accountants play at national and global levels,' he says.
Mutati believes accountants in the public and private sectors alike should critically reflect on the vision of ACCA. 'Those of us in the public sector have a responsibility to provide leadership focused on outputs that will change people's lives for the better. We do not work for ourselves but to serve the masses. We should listen to our people and appreciate their collective wisdom, and this remains central to the delivery of Vision 2020,' he says.
But he adds that ACCA must continue to assist governments, including Zambia's, to review their accounting policies and legal frameworks, and help with their implementation.
He also wants to see ACCA maintain its support for government in preparing national budgets that respond to the people's aspirations. 'ACCA should focus in particular on how, for example, Zambia can make its tax system fair and equitable. And on developing systems that can enhance public finance management that minimises leakages,' he says.
His advice to aspiring accountants is above all to work hard. 'There is no substitute for hard work,' he says. 'I also see a lot of impatience among professional accountants. They need to manage their expectations as they begin their career.'
When he did his training (he was one of the first ACCA members in Zambia), Mutati says it was not easy to acquire scholarships. 'I was fortunate to obtain a scholarship from Zimco and, with unwavering determination and appreciation, I completed my ACCA course,' he says.
There is value to be gained from every experience, he believes, even if the path is not always smooth. 'Mistakes should be used as a platform,' he says. 'You can learn from them and create a positive future.'
Whitney Mulobela, journalist in Lusaka
"My work in government is founded on the firm belief that you cannot spend money that you don't have"
"ACCA should focus on how Zambia can make its tax system equitable and on developing systems that can enhance public finance management that minimises leakages"