Craig Nelson FCCA, group CFO at Brisbane real-estate network Place, explains why faith in his ACCA Qualification helped him in his decision to move to Australia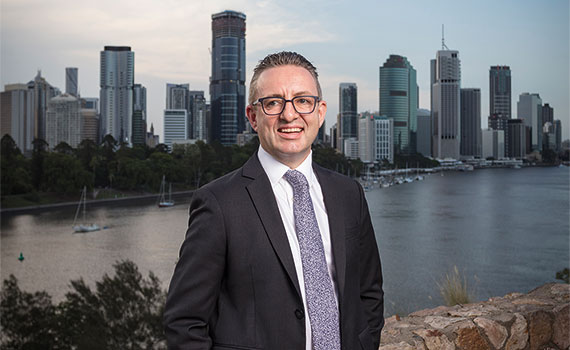 This article was first published in the January 2019 China edition of Accounting and Business magazine.
Throughout his career, Craig Nelson FCCA has embraced challenge – and never more so than in his current role. As group CFO at Place in Brisbane, Australia, Nelson works in an ever-changing environment.
'I'm passionate about finding solutions, creating amazing financial models, building strong, resilient businesses and achieving positive outcomes for stakeholders,' he says. 'I love mentoring, educating and creating supportive environments.'
UK-born Nelson joined Place, a Brisbane-based real-estate network that operates under a franchise model, in 2012. Having bought and sold his own property in Brisbane, he viewed the group CFO role as 'a great opportunity'.
He understood the challenges, however. Real estate is a cyclical business, and franchises are not always successful. Nelson reasoned that Place's focus on higher-end property – a sector traditionally more resistant to market fluctuations – should provide a buffer during the down times. And its franchises would be different; Place was developing a model that was both innovative and superior to those in the already crowded real-estate space.
Handpicked experts
Rather than rebranding existing agencies, says Nelson, the company picks the best salespeople in the industry and builds businesses around them. Place's head office also acts as a shared services centre where a team of business specialists supports the franchise network, which now numbers 15 branches, on a fee-for-service basis.
In addition to rolling out a targeted three new franchises every year, Place has mortgage broking and financial planning partnerships, as well as an investment arm. Overall, the group's annual turnover is in the order of A$60m.
Reporting to the CEO and board, Nelson co-leads the key back-office teams of finance, HR and compliance across 20 separate business entities. Cashflow planning, budgeting, business modelling and recommending financial strategy in this ever-evolving environment require an agility that Nelson finds exhilarating. For him, he says, 'change management is a normal day'.
Most CFOs probably don't have Nelson's level of engagement with such a cross-section of stakeholders. The franchise principals are all real-estate agents, but they may have different expectations or indeed expertise when it comes to running a business.
'When we put the business models together with new franchisees, we ask them to tell us what they're good at and then we provide some guidance,' Nelson says. Monthly meetings are held with all principals to monitor progress.
Natural choice
For Nelson, accountancy was a natural career choice. Intrigued by mathematics since childhood – he would follow his mum around with a stopwatch, timing her household chores – during his training he was delighted to discover that numbers 'can be interpreted and presented in a huge variety of ways to achieve the desired outcome'.
He began his career as a trainee accountant in private practice in the UK, before becoming financial controller in two logistics companies, followed by a stint as company accountant at a print and digital agency. Keen to live in a warmer climate – and armed with his extremely portable ACCA Qualification – he and his wife relocated to Australia in 2006. He admits that this was a huge gamble.
'We knew no one, didn't have jobs, and had never been outside of Europe before,' says Nelson. 'But we were young, and we thought: what's the worst that can happen?'
Serendipitously, the first recruitment agent he approached was from London and 'understood my qualification'. When she placed Nelson on a three-month accountancy contract with the Queensland government's Department of Emergency Services, little did he know that he would end up in the thick of an unfolding natural disaster. A cyclone had devastated northern Queensland, and Nelson soon found himself writing PO after PO for a pipeline of emergency supplies.
Back in Brisbane, Nelson's first permanent role was as financial controller at Flavour Creations, a company specialising in the manufacture of specialised foods and drinks for the medical industry. In the four years he was there, the company's annual turnover grew from A$1.2m to A$10m.
From there he moved to Prism Software as financial manager. When that company was acquired by US-based multinational EFI, he felt it was time to move on; that decision took him to Place.
Nelson loves numbers because, he says, they make sense. 'There's always a right answer,' he says. During his career he has also learned that 'things are black and white, but they can be grey as well'. He believes that this understanding complements the technical skills required for a CFO.
'A great CFO can clearly understand numbers and systems, and influence the business as well,' says Nelson. 'But you've also got to understand people as the individuals they are. You can't deal with everyone in the same way.' To that end, Nelson says his 'door is always open to colleagues' to gain more insight into the daily challenges facing the team and the business.
He also tries to profile people using the four different personality types espoused by sports psychologist Dr Phil Jauncey: the impulsive 'mozzie', the structured 'enforcer', the analytical 'thinker' and the sensitive 'feeler'. According to that model, Nelson is a thinker/feeler. 'This means that I can doubt myself but when I do I am a structured thinker that makes lists,' he explains. 'When I am confident I move into the enforcer quadrant and my assertive side comes out.'
Sharing skills
Nelson also shares his skills with future generations; in 2013 he joined the Queensland University of Technology Career Mentor Scheme and supports graduates as they move into the workforce. 'Committing just two hours a month to assist students with things as simple as CV and letter writing, interview technique, personal presentation or even introducing them to my network will help them be more effective when applying for roles,' he says.
An active participant in ACCA events, Nelson was approached to run for the role of ACCA panel member for Queensland and Northern Territory when it becomes vacant. It is something he is considering, in the belief that both technical and soft skills are vital to the success of finance professionals and their teams. 'It is a given that ACCA members have strong technical skills which can be easily examined, but I would like to provide some focus on developing soft skills through appropriate workshops and presentations,' he says.
Meanwhile, having been involved in the design and launch of five businesses in the past five years, with three in the last 12 months, he is now on a six-month career break to spend time with his baby son.
Peta Tomlinson, journalist