TMF Group, in association with ACCA, looks at the big issues for businesses planning to set up or expand in Sweden, and the tax and accounting regulations to consider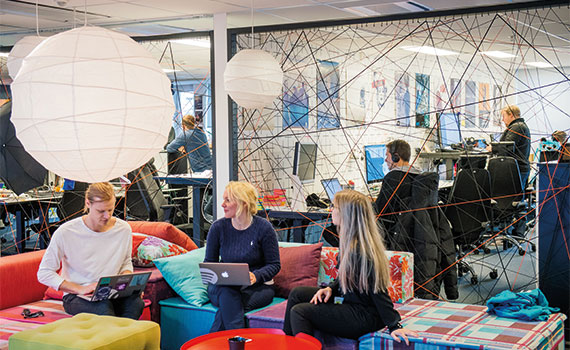 This article was first published in the April 2019 UK edition of Accounting and Business magazine
Sweden is basking in the delights of a strong economy. It continues to outperform other advanced economies and is presented as a poster child for optimising market capitalism. It is prosperous – ranking 39 in the world in terms of GDP. In Q4 of 2018, Sweden's GDP increase was twice more than forecast.
Economic good news was only slightly tempered when the Swedes had a little political difficulty in forming a government, but that was resolved in January 2019 after four months of deadlock following an inconclusive general election in 2018. The Social Democrat leader Stefan Löfven has now been given a second term as prime minister heading a centre-left minority government.
'The various political parties had issues that they needed to sort out,' says Jonny Bostrom, TMF's director of operations for the Nordics. 'But we now have a government that is business-friendly.'
Bostrom – who is based in the capital Stockholm – says the government is determined to remove barriers to setting up business – for instance, reducing the complexity and number of the statutory filings businesses have to make and also decrease social security taxes for companies hiring young people. He describes these proposals as 'a good start'.
Changes to corporation taxes are another indicator of how the government wants to encourage the business community. Headline rates of corporate tax are easing back gently, from 22% in 2018 to 21.4% now (from 1 January 2019); from 1 January 2021 the figure will fall to 20.6%.
There are also changes in the right direction in terms of accounting and tax regulation, although they are currently a gentle evolution rather than dramatic change (significant changes in company law and governance regulations are usually driven by European Union directives).
However, success brings its own problems, and Bostrom says the skills shortage is a live, long-standing issue facing both the public and private sectors. A 2016 report cited shortages of nurses and teachers, and suggested the communications, technology and construction sectors were particularly vulnerable to a lack of skilled workers.
Tightness in the labour market was underlined in January 2019 when the unemployment rate fell to 7%. This drop of 0.5% from a year ago was the lowest figure in 10 years. Demand for labour is expected to continue.
Perhaps the only blot in the Swedes' economic textbook has been the recent history of interest rates. In December 2018 Bloomberg said the Swedish central bank, the Riksbank, faced its biggest decision in rate-setting for seven years – that was the last time the Riksbank raised interest rates.
In 2015 the repo rate (the rate of interest at which banks can borrow or deposit funds) actually turned negative (joining Switzerland, Denmark and Japan in that dubious distinction), and that is where it has stood ever since. The December meeting did see rates rise from -0.5% to -0.25%, in what commentators called 'the start of the journey out of negative rates'.
However, the journey may take some time as fears of economic slowdown, or even recession, rise.
The Riksbank decision may not have been too popular with some consumers as household debt ratios have risen – spurred on by increasing house prices and those record low interest rates – and there are signs some are struggling. Bostrom believes that house price values are not a bubble ready to burst, although he does foresee a slowdown in the increase in asset values.
In contrast, the currency market liked the interest rate news, pushing the value of the Swedish krona higher. The decision was mostly driven by the Riksbank desire to hit its 2% inflation target – a figure the country has consistently undershot.
'The strength of the currency is a potential concern,' says Bostrom. 'Foreign trade is a major plank in Sweden's economic success, and a high-value currency could dent an exemplary export story.' At the moment it is ranked as the 26th largest export economy in the world, with exports of US$135bn and imports of US$139bn.
Bostrom describes the performance of the krona as 'a mixed bag': 'Recently the Swedish krona has been weak against both the US dollar and the euro, and that has benefited export-driven industries such as paper and steel.'
Swedish business confidence seems unperturbed by external threats such as the drum beat of potential trade wars between the major trading blocs. 'Business generally is confident of protection from any global trade turbulence through Sweden's membership of the European Union,' says Bostrom.
Thriving tech sector
Business investment and innovation has a strong track record. 'Sweden is seen as a test market – especially for different types of new technology – as we have a reputation for embracing the new.' Audio streaming platform Spotify (headquartered in Stockholm) and Skype (founded in 2003 by a Swede and a Dane) are testament to that, as is a burgeoning gaming sector. Perhaps the technology success is the fruit of a government initiative dating back to the 1990s that wanted all citizens to own a computer and learn digital skills. 'This is giving us a really good push and a self-confidence,' says Bostrom.
Few in the country would disagree that brand Sweden is riding high at the moment. Bostrom thinks part of the reason for the strong reputation is the country's track record in fostering startups. 'In many areas we are at the front – for example, in tech startups helped by a strong venture capital sector.' He is looking forward to that business innovation track-record continuing, helped by the government actively looking to reduce complexity for corporates. He says: 'I am expecting it is going to become easier to set up a business in Sweden.'
When Bostrom met with his TMF Group colleagues from around the world in Dublin recently, he says he was struck by the buoyancy of the demand for the company's services – which focus on international expansion – in the Swedish market. 'The market is on fire at the moment. Across all sectors we are receiving enquiries from companies that are looking to set up business in Sweden. They are looking to expand and they want this country to be the next market for them.'
Peter Williams, journalist
"Swedish business confidence seems unperturbed by external threats such as the drum beat of potential trade wars between the major trading blocs"