The Big Four's largely undifferentiated approach to marketing offers a real opportunity for smaller firms looking to carve out a unique brand position, says Jason Ball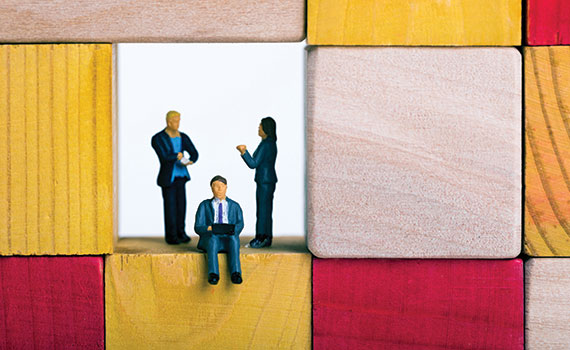 This article was first published in the June 2019 UK edition of Accounting and Business magazine.
As scrutiny of the activities of the Big Four continues during the review of the audit market, analysis of how Deloitte, PwC, EY and KPMG market themselves in the UK reveals remarkable similarities. This gives smaller firms an opportunity to disrupt the status quo.
Professional services firms often have no tangible product to offer. They are selling the invisible with a promise to effect business change. That means potential clients choose a practice based on who they feel they can trust, which is as much an emotional decision as a rational one. Success for a firm comes down to creating a brand relevant to clients, believable in its claims, able to deliver on its promises and different from its competitors. So how do the Big Four do?
The propositions
EY's mantra is: 'We are committed to building a better working world – with increased trust and confidence in business, sustainable growth, development of talent in all its forms, and greater collaboration.' It is clearly focusing on higher-order value over service delivery. Sadly, this quickly expands into generic aspirations (quality, excellence, stakeholder management, diversity, supporting entrepreneurs, etc), which dilutes the distinctiveness of its 'building a better working world' positioning.
But strip out the fluff and we get to a core value proposition – something like (in my words): 'For ambitious, forward-thinking organisations who want to fulfil their market potential, EY is a global advisory firm that delivers expertise in how to sustainably grow business and increase confidence in the results.' Broadly, it's a promise of transformation.
Deloitte has a less explicit focus on a wider purpose. Its website states: 'It's what we do that makes the difference… We work to provide trust and confidence in capital markets, support inclusive growth and competitiveness, and build skills and develop future leaders.'
As with EY, there's some hedging, with tick-box words such as trust, confidence, growth and competitiveness. But there is a core thread around the term 'impact'. So if we look to create a value proposition for Deloitte, it could read (again, in my words): 'For organisations looking to drive change in their businesses, Deloitte is a global advisory firm that can have a tangible impact on future success.' Is this so different from EY's transformation?
KPMG says it is 'a leading provider of professional services… delivering integrated solutions to our clients' issues… With passion and purpose, we work shoulder-to-shoulder with you, integrating innovative approaches and deep expertise to deliver real results.' While its website has a section on how KPMG is different, the description could be applied to virtually any firm. Like the others, it deploys a generic range of business terms and, at the core, the brand purpose of inspiring confidence and empowering change – not so very different from EY and Deloitte.
A value proposition for KPMG could read (my words): 'For organisations that need to overcome highly complex challenges, KPMG is a global advisory firm that partners with clients to help them chart their future with confidence'. Another promise of transformation, then.
Finally, PwC: 'Our purpose is to build trust in society and solve important problems. It is this focus which informs the services we provide and the decisions we make.' In many ways, this is the same message with all the usual language. Where PwC does stand out, however, is in having a positive impact on society rather than just business.
So a value proposition for PwC might read (my words): 'For companies that need to succeed in a world of complex, difficult problems, PwC is a global advisory firm that creates solutions that have positive societal impact at their core.' This at least shows some differentiation. But is this grander social purpose relevant to the firm's clients?
Opportunities for SMPs
None of the Big Four has a standout position in the market. Data from SimilarWeb shows that, in March, only Deloitte got more than two-thirds of its site traffic direct – ie from people typing in its URL rather than through a search engine – and almost 45% of those visitors left after viewing just one page (bounce rate). Direct traffic is a good indicator of a strong brand: clients think, 'I need to know about subject X, so I will go to brand Y.'
The other firms fared worse. EY managed less than 30% direct, with a 52% bounce rate, with most of its traffic coming from searches.
Smaller firms looking to compete have a real opportunity to carve out a unique brand position. This is likely to involve rejecting the 'old world' of professional services, and being clear on what the firm is for – and passionately against. It would have a lot more attitude.
This, of course, would require bravery and buy-in from senior partners. But it offers some intriguing possibilities.
Jason Ball is founder of B2B marketing specialist Considered Content.
"A firm's brand needs to be relevant to clients, believable in its claims, deliver on its promises and offer a distinctive message"