Growth in demand for accounting and advisory services in Africa is set to continue, providing opportunities for international alliances as well as the Big Four networks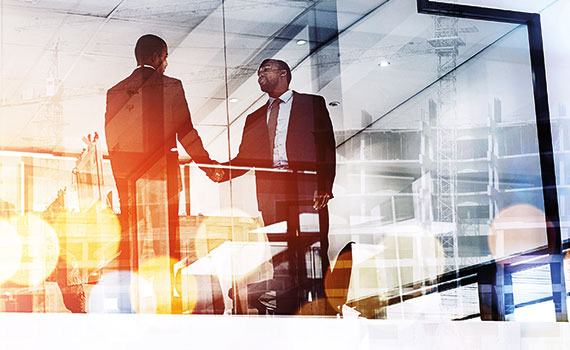 This article was first published in the September 2019 Africa edition of Accounting and Business magazine.
Is Africa set to be the next region of growth for international accountancy firms, as they follow their clients into new and expanding markets? The figures suggest this could be the case, although commentators have been predicting take-off for firms in Africa for a number of years now.
According to estimates from International Accounting Bulletin, African member firms of the top 25 global accountancy networks earned US$3.335bn in fees in 2018, up 5% on the previous year. And between them, these firms grew their staff levels by 6% to more than 63,000 professional and administrative staff on the continent. The Big Four networks of Deloitte, EY, KPMG and PwC account for around 75% of the fee income and headcount in the continent's accounting sector.
However, this should be balanced against the view from the international associations and alliances sector of the accountancy market. Associations and alliances are looser groupings of accountancy firms, not bound by the stricter forms of a network. Although smaller in scale, the top 20 associations account for nearly US$300m in revenue on the continent, down 5% on the previous year, according to IAB.
It should also be remembered that these figures represent probably less than 2% of the overall fee income and 4% of the staffing levels of the global results of the networks and associations.
Nevertheless, there is a consensus that growth, whether domestically produced or created by foreign investment, is set to continue as demand for accountancy and advisory services increases. The growing adoption of IFRS Standards and evolving regulatory systems will continue to generate strong demand for accountancy services, alongside the needs of multinational companies seeking to develop business opportunities on the continent.
Real opportunity

'It is an exciting space,' says Murray Watt, regional director for Europe, Middle East and Africa (EMEA) at Baker Tilly International. 'As the economies develop, it is a place of real opportunity.' Last year, Baker Tilly strengthened its presence in West Africa, especially in Sierra Leone, where it added KPMG's firm to its network, as well as growing in areas such as Johannesburg in South Africa.
Like many of the other networks, Baker Tilly has traditionally offered audit, accounting and tax services to its clients, but Watt says there has also been growth in advisory services.
He adds that the network has enjoyed strong organic growth in sectors such as infrastructure, agriculture and telecoms, as well as in advisory work. Non-profit sector clients include charities, where donors want to see how their funds are being spent. He says that Chinese investors are also creating work for Baker Tilly firms. 'Chinese investment has been good for professional services across the board,' he says.
China and non-profit organisations are a recurring theme for many of the networks. Bernard Delomenie, EMEA regional director for Crowe, says that Chinese clients are investing and acquiring businesses in the region. He adds that work for non-governmental organisations (NGOs) and charities is growing steadily, but that this requires the network to have a presence in some higher risk regions. 'Our people are very strong, and can deal with great uncertainty, they are very resilient,' Delomenie says.
'Political uncertainty can affect investor confidence, and our member firms certainly take this into account,' says Watt. 'We focus on quality assurance and not taking any risks.'

Regional hubs

Although there are 54 countries on the continent, the networks are not represented in each and every one. Instead, they each seek to service clients wherever they are through a series of regional hubs that will also take regional, economic and cultural differences into account. PwC is the most widely represented network in Africa, with firms in 34 countries, while many of the other networks are present in more than 20 countries. Along with the geographical issues major challenges include environmental concerns, political instability, and a tight human resources market.
'Resourcing across the profession is very difficult,' Watt says, 'and talent retention is also difficult. But in terms of leadership opportunities, there are opportunities to learn from other firms [in the network] that have already gone through a building process and can help shape other firms.' He adds that the international Baker Tilly network is able to offer a level of support to help firms develop their own people.
Delomenie agrees. 'The challenge for us is to find the right people and to keep them. We are competing against the large multinational companies as well as other accountancy firms.' He adds that his network works alongside the professional bodies such as ACCA to provide suitable training opportunities and help build capacity within the financial reporting system.
Even in developed markets such as South Africa, there are still skill shortages, although anecdotal evidence suggests that greater political stability in the country is helping to stem the outflow of talent. However, Delomenie observes that this is hardly a problem that is unique to Africa, with many other regions facing similar problems.

Philip Smith, journalist
"It is an exciting space. As the economies develop, Africa is a place of real opportunity"