While Todd Shand FCCA may not have picked up a bat as a youngster, being CFO of Cricket Australia is a dream job that offers a fascinating insight into sport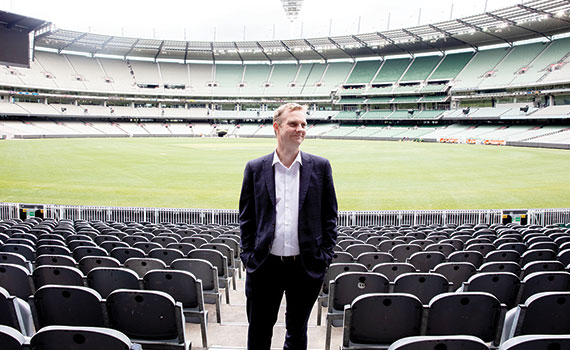 This article was first published in the February/March 2020 International edition of Accounting and Business magazine.
What's it like to have a job that millions of people dream of? 'It keeps me on my toes,' says Cricket Australia CFO Todd Shand.
Every Australian grows up playing backyard cricket. The irony for Shand is that, born in Glasgow, Scotland, where it is football that is the national sport, he had never even picked up a bat before joining Cricket Australia.
After school he drifted into gap jobs, which 'happened to be in accounting', and Shand found his niche. 'Numbers were always my thing,' he says.
He then studied accounting at university, but 'soon worked out' that a degree alone would not be enough to fulfil his long-term ambition. That would require the ACCA Qualification, he realised. 'Its flexibility suited my lifestyle,' he explains, while the qualification's international recognition was the clincher.
During a stint with the BBC in London Shand met his future wife, Wendy. Both being adventurous in outlook, they decided to move to Australia, where Shand's accounting skills were in demand. The now married couple and first son, Jack, emigrated in 2008.
Settling in Melbourne, where the couple had friends, happenstance kicked in. 'My first job contracting was at Cricket Australia,' Shand says from his office opposite Melbourne Cricket Ground, the home of Australian cricket. He was introduced to the legends of the game – Greg Chappell and the late Richie Benaud – without having a clue who they were ('much to the horror of other staff members', he recalls).
Even so, the organisation's purpose resonated. 'What cricket, and sport in general, does for communities is something dear to my heart, and although I knew nothing about the game, the purpose was what initially pulled me towards it,' he says.
After his month's contract was up, he kept in touch with Cricket Australia 'and made it clear I'd love to return if the right role emerged'. When that call came, in 2010, Shand was head of finance at Ericsson Telecommunications Australia & New Zealand. It was a rewarding job, but the pull of cricket was too strong.
He joined Cricket Australia as financial controller, progressed to head of finance and, in 2016, was appointed CFO, overseeing an annual revenue budget of around A$500m (US$340m). 'It was A$135m when I started,' he adds. His team of 16 is spread across financial accounting, business partnering, financial systems, procurement and sourcing, payroll and financial systems.

Constant reinvention
Each role has been a step up that Shand has approached with 'a different set of eyes', facing a different set of expectations. 'The one thing that hasn't changed is the opportunity to grow with every role,' he says. 'The need to reinvent yourself is now part of finance.'
That need is particularly compelling for Shand. 'Cricket works in a way that is far more complex than I ever thought it would be,' he explains. 'We are a multisite business that works closely with other cricket nations, as well as the eight domestic associations, and the International Cricket Council in Dubai.
'Revenue fluctuates depending on the broadcast and gate revenue linked to the international touring team, whereas operating expenses – excluding payments to cricketers – remain largely the same. This makes annual comparisons challenging, so we work on a four-year cycle. Even then, though, we don't always know the international cricket match schedule beyond perhaps the next four years.'
So how do they manage? 'We have a very robust financial strategy,' he says. 'Obviously, with such large revenue streams as media rights, we need to plan for many scenarios.'
The business is indeed full of financial game-changers. For example, a six-year media broadcast deal worth A$1.182bn (US$811m) was signed in April 2018. That's a handy fillip for the coffers, but how does the finance chief plan for unknowns on such a scale?
'We manage unknowns through a long-range plan, made up of key assumptions, targets, and the ability to dial up and down as we understand the outcome of partnerships we enter into with broadcasters and others. We do, of course, have a level of reserves. The financial strategy has worked well as we have continued to grow and grow.'

Game-oriented
Shand describes his CFO style as that of a consensus-builder. 'I think about the we rather than the I,' he says. 'I like to create opportunities for the team to grow, and for the business to work towards the best outcome for cricket – not just finance.'
While cricket can have some areas that may be perceived as relatively rigid, he adds, other parts can work in a more entrepreneurial manner, so being adaptable is important.
He continues: 'The beauty of finance is that you get to see and work across all areas of the business and, in my case, to serve the wider community. For instance, through the Cricket Australia reconciliation action plan, we help to build relationships, respect and trust between Aboriginal and Torres Strait Islands peoples and non-indigenous Australians.'
He describes Cricket Australia as 'a great organisation that provides opportunities for anyone to get involved'. Staff have acted as flag-carriers at major matches and help out behind the scenes. In one highlight last year, a member of the finance team 'got to bowl to the India team and his heroes when they toured'.
The culture that Shand so admires in his workplace was tested by the 2018 ball-tampering scandal, when Australian players were sanctioned for using sandpaper to roughen up the ball, an act that drew worldwide condemnation. The scandal eventually claimed the scalps of several Cricket Australia executives, including its chairman and CEO.
The finance function wasn't implicated, but it nevertheless felt the fallout. 'It absolutely affected our team – not in their day-to-day operations but from a feeling perspective,' Shand says. 'It struck deeply. People expressed their anger, disappointment and concern – every emotion was thrown around.
'The greatest gift we can give to people is to listen, and that's what the organisation is continuing to do. In those conversations, people started to share more. Myself, the team and cricket work hard on the learnings we take from that, and how we can apply them to our everyday work going forward.'

Positive change
Following the scandal, the new Cricket Australia chair Earl Eddings promised better. Highlighting the cultural change taking place across Australian cricket, he said: 'We have quite rightly turned the spotlight onto each and every aspect of Cricket Australia to ensure positive change is reflected on and off the field.'
Shand adds: 'While we will never forget the lessons of the past, we want to reassure the Australian cricket community that we've listened, and are genuinely committed to moving forward, earning back the trust of cricket fans across the country and making Australia proud again.'
There are positives to look forward to. Participation at grassroots level is growing; Australia brought home the 2019 Ashes (men's and women's); and in October this year, the nation will host the Men's and Women's T20 World Cup.
Internally, Cricket Australia is demonstrating 'a clear commitment towards prize money parity' for the women's team, who are not only current world champions but 'great role models for girls and boys, as well as being respected ambassadors for our country'.
Shand says he feels incredibly privileged to work in a role and for a sport that he loves.
ACCA's CPD and networking events keep him on top of his professional game, and at home he plays backyard and beach cricket with his younger son, Australian-born Alfie, 11, who hopes to wear the 'baggy green' cap one day. Shand also 'learns a lot, every day' from his older son Jack (now 16), and credits wife Wendy with keeping him grounded.
So does being finance leader in such a high-profile institution bring any added pressure to Shand's role? 'Apart from knowing that millions of people in Australia and across the globe would want my job?' he jokes. He adds, though, that it's hard to call it pressure when you love your job.
In fact, he's more likely to face a grilling at a barbecue or the pub, when he is asked why a certain player was picked ahead of another. 'At which point I politely remind them I am not a selector!' he says.
His advice to young accountants is: 'Be adventurous, and find what you love to do. The value you bring lies in what you can do for others, so seek out those opportunities. Invest the time to build a network, and have a support group and mentors who will tell you things – even those you may not want to hear.'

Peta Tomlinson, journalist