After more than 20 years in the finance industry, Yip Yew Chong has built up a second career as the creator of many of Singapore's eye-catching heritage murals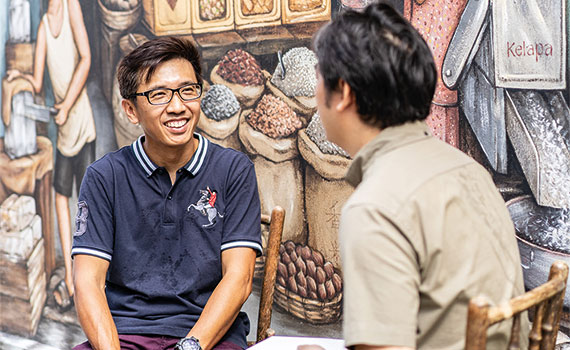 This article was first published in the February/March 2020 China edition of Accounting and Business magazine.
If you live in Singapore, or have visited the country over the past five years, chances are that you will have seen artist Yip Yew Chong's work. A relative newcomer to the local art scene, Yip is best known for his 60-plus heritage-inspired murals, which can be found across the city-state.
Despite his prolific nature, Yip considers himself semi-retired and art is just one of the passions he finally has the time to pursue. It may come as a surprise that the youthful-looking Yip is, in fact, already 50 years old, with more than 25 years of experience as a professional accountant under his belt.
You might be tempted to think that his switch to becoming an artist was a response to a dissatisfaction with the corporate world, but Yip clarifies that he thoroughly enjoyed his time as an accountant and that he had simply reached a stage in life where he could afford to spend more time on a childhood passion.
As a young student, Yip already possessed a keen interest in art and was even chairman of his school's art club. But he didn't think that it would be possible to pursue art professionally because of the state of the local art scene at the time.
In the 1980s, when Singapore was still very much in its development phase, there was a strong emphasis on traditional professions such as law and engineering. Yip decided to pursue an engineering degree after completing his mandatory stint of national service. But while he was serving in the army, he met two commanders who suggested another professional path to pursue. 'They told me that accounting was a very versatile skill that would always be in demand in all industries,' he recalls.
Heeding their advice, Yip studied accountancy at Nanyang Technological University and stepped into his first job, with Norwegian shipping company Thome Ship Management. It was during this time that he first began to develop his passion for accountancy.
'The experience of working was very different from studying,' he says. 'I found fulfilment in knowing that the things I did had a real effect on the business.'

Multinational perspective
Moving on to his next job, at Mas Millennium, Yip soon discovered another perk of the profession: the opportunity to work in global settings. 'In this new job, I got to do audits in Taiwan and Bangkok, which was very interesting for a young accountant,' he says.
Yip had also begun to carve out a niche for himself: working with and managing multinational (MNC) accounting teams. This subsequently led him to a succession of finance management roles in MNCs including Thomson Reuters, Visa and Informa.
'What interested me most was that, with convergence, accounting standards were becoming more and more similar, yet business practices were still very different,' Yip says, adding that this was due to a variety of people coming from a range of cultures.
In 2007, while working in The Netherlands, Yip had the chance to manage a team made up of 26 different nationalities. 'From Western and Eastern European countries, Africa and South America, they all congregated in Amsterdam,' he says.
Not only did such experiences give Yip a unique insight into the working styles of different cultures, it also gave him an opportunity to sell the Singapore brand, which he describes as 'very practical'.
'They really appreciated my style, which was to just step back and take a look at the big picture, and then identify the practical things that needed to be done,' Yip says.

Positive effect
Admittedly, the word 'practical' would not be the first word that comes to mind when describing artists. But perhaps this is what makes Yip unique. With his murals, Yip says, his intention is to have a positive effect on their audience and the community – whether through beautification of the surroundings or by delivering aspirational messages of hope.
Another unique aspect of Yip the artist is his openness to collaboration. Often, instead of insisting on sticking doggedly to his own vision, he will consider the comments of others and modify his work accordingly.
'It's often a compromise – not my idea or yours, but a collaborative approach,' he explains. 'Looking back, I sometimes realise that if I had gone ahead with my own version, it might not have turned out as well. So teamwork is still a wise thing to do.'

Give and take
Yip compares his approach to that of accountancy, where he says there is often an element of give and take. 'I have learnt that whether in accounting or art, there is no black and white; there are many different shades of grey. It's how you justify, and how you provide evidence to persuade people to come round to your idea. Yes, art can be very subjective, but it can also serve an objective function as well.'
Yip tells us that one important thing he has learnt in his time as an accountant is the value of trust. As an artist who creates public art, there is a certain level of ethics and responsibility involved. 'Over time, I have proven myself with curators and commissioners,' he says. 'In the beginning, they were a lot more careful and wanted to see my sketches. But now they are okay, even if I want to change things on the spot. I have instilled in them a trust that I will not produce art that is detrimental to society.'
Just as Yip found much fulfilment in his accounting career through his global experiences, he is continuing his global outreach through art. Today, he continues to be a spokesperson for the Singaporean brand, reaching out to visitors and tourists with his impressions of Singapore and its heritage.
Additionally, he has also represented the nation by painting in countries such as China, Hong Kong, Malaysia and India. For the latter, he was part of a team of Singaporean artists who were commissioned by the Singapore Tourism Board to paint a 'Singapore Lane' in Delhi.
Yip started planning his move to become a full-time artist five years ago, while still holding on to a job as Asia shared services director at Informa. For three years, he would dedicate his weekends to working on murals. This was done, he says, with the full knowledge of his company, who fully supported him, citing his work-life balance as a positive example to others.
It was during this period of juggling the two roles that he discovered that being an artist was something that he truly enjoyed and which, surprisingly, also paid well. This was certainly a bonus for Yip, who was ready to pursue his passion as a semi-retiree. And so, when the younger of his two children entered university in 2018, he took the plunge and became a full-time artist.
Yip attributes his ability to make this switch to the success that he achieved in his accounting career. 'It's not like I wasn't financially independent and took a big risk,' he says.
He advises young finance professionals, who may have similar thoughts of leaving their profession to pursue a passion, to make sure that they are properly resourced.
'I still have a traditional mindset,' he admits. 'If you are not financially ready, then you should make the transition slowly.'
Nevertheless, he does concede that times have changed, and that murals and street art have gone from being tightly controlled by the government into the mainstream.
'Ninety per cent of my works are commissioned by private individuals, organisations and even the government,' Yip says. 'A few years ago, you wouldn't even dream that you could make money from this.'
When asked if he would ever consider returning to accountancy, Yip says that that period of his life, while fulfilling, is now over. Instead, he gives back to the profession in other ways, including volunteering with interest group the Nature Society (Singapore).
He also shares his story with schools and accountancy bodies. 'I tell them about what I was able to achieve in my career – how it provided for me and my family, and how I am now also able to give back to society, albeit in a different way. Life is really more than just about doing one thing.'
Looking ahead, Yip says that now that he has established a name for himself as a mural artist, he would also like to focus on other things. 'I want to explore other forms of art such as installations, film-making, Chinese ink painting and animation, he says.
'In my first year as a full-time artist, I have spent a lot of time producing murals. Now I want to slow down and go on to other things: learning, exploring new things. That's my plan.'

Rufus Tan, journalist
"I found fulfilment in knowing that the things I did had a real effect on business"