For Jessica Chuah ACCA, head of compliance at GBCI Ventures, ensuring that regulatory standards are upheld and safeguarding the organisation go hand in hand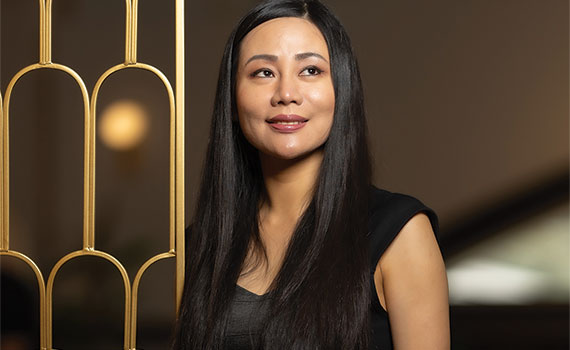 This article was first published in the May 2020 Singapore edition of Accounting and Business magazine.
Tech savvy, articulate, mobile and highly motivated, Jessica Chuah epitomises the 21st-century finance practitioner. As head of compliance for Singapore-based GBCI Ventures, a venture capital fund focusing on technology investments such as fintech, artificial intelligence, blockchain and Internet of Things, Chuah's forte lies in risk management, specifically safeguarding the organisation from the threats of money laundering and financial terrorism-related transactions.
To say Chuah lives and breathes risk management is an understatement. She has her finger on the pulse of the latest risk management trends: she works closely with regulators, uses technology to design and establish thresholds and red-flag alerts, constantly stress-testing processes and controls to pre-empt instances of fraud. She speaks about her roles and responsibilities with a passion, and you get the impression that she's pretty no-nonsense when it comes to safeguarding the organisation from potential financial, regulatory and legal risks.
As head of compliance, Chuah stresses that the role doesn't stop at regulatory compliance but also, more crucially, encompasses risk management. The role is important, given the organisation's fintech projects in the region, including e-wallets that allow for crossborder wired transfers, payroll and remittance, among others.
'The department ensures that regulatory compliance and reporting are submitted on time and that we are able to answer queries from the regulators, auditors or even third parties who are auditing our system,' Chuah says, adding that it also deals with financial intelligence units (FIUs) when money laundering and financial terrorism-related transactions occur. This, she points out, is where the risk management aspect of her role comes in.
Gatekeeper for risk
'Risk management means that you stress test all the processes and controls – ensuring that the control mechanism is applied in a timely manner before incidents happen,' she explains. 'We are like the gatekeeper for any kind of risk. In my line of work, money laundering is one of the biggest risks to look out for, so when I design an AML/CFT [anti-money laundering and counter financial terrorism] programme, the effectiveness of the implementation of the programme is my responsibility. That's my KPI [key performance indicator].'
To date, Chuah and her team have effectively implemented AML/CFT procedures, including customer due diligence, record-keeping, ongoing due diligence, reporting of suspicious transactions and combating the financing of terrorism in the various markets where GBCI Ventures has a presence, chiefly in Cambodia, the Philippines and Singapore. 'It's the same AML/CFT programme but adjusted and localised to the different laws of the respective countries,' she says. The organisation's AML/CFT mechanism is also regularly assessed to ensure that it is effective and sufficient to address any change in AML/CFT trends.
Since joining GBCI Ventures in September 2019, Chuah has spent a significant amount of time in Cambodia. She was responsible for the Payment Services Institute licence application from the National Bank of Cambodia, securing approval within four months. In addition, she evaluates internally generated suspicious transaction reports before submitting them to the Cambodia Financial Intelligence Unit. Given GBCI Ventures' role in supporting Cambodia's local fintech community, she sees her role as integral to the organisation's long-term sustainability.
'Risk has a direct correlation to a company's branding, goodwill and – if an organisation is publicly listed – the share price. If we are taking money on behalf of the company we should be responsible corporate citizens. The risk management system has to be robust enough that you can detect and deter risk,' she says.
Taking a balanced approach is, Chuah says, vital. 'There should always be a balanced approach to any business decision and strategy,' she says. 'It's my job to acknowledge and identify risks, classify them and propose solutions to top management. Apart from financial KPIs, we also need to look at the non-financial KPIs that may lead to negative repercussions.'
To that end, stakeholder management is vital. This includes advising management, in particular the profit-oriented departments of the organisation, on potential repercussions when pursuing particular clients. 'I have this conversation on a daily basis so I am constantly having to hone and improve my stakeholder management skills,' Chuah says. 'It's a lot of work.'
Chuah, who holds degrees in both business administration and law, began her financial career at one of the Big Four accounting firms, where she picked up auditing and risk management skills. But it was when she joined a global financial institution that she gained exposure to not only compliance but also AML/CFT-related work. Here, she had her first taste of auditing processes to ensure that AML/CFT controls were robust. 'I was put on the front line and I found that I liked the job,' she says. She then went on to enhance her skills, expertise and knowledge in financial crime detection and prevention by obtaining certification from the Association of Certified Anti-Money Laundering Specialists.
The field of risk management, she says, is appealing largely because the job is not repetitive, unlike audit and tax. 'When I first started my career I was doing tax computation at my desk. Although I did interact with regulators such as the Inland Revenue Board, it was nothing like combating financial crime, safeguarding my company against any potential criminal activities or having discussions with regulators. Those were empowering moments for me; I never thought that being an accountant could actually push me that far.'

Empowerment and motivation
Chuah says that the opportunity to gain knowledge is a particularly attractive element of the role. 'When I first started as a tax associate I wasn't given a lot of chances to speak out and when I evolved in my career I realised that it's the knowledge gained that has empowered and motivated me,' she says. 'More than monetary rewards, it's the gaining of knowledge that is in sync with my curiosity. So that way, I really look forward to my job and I feel very empowered.'
She acknowledges that her ability to undertake her current role is thanks largely to her ACCA training. 'I would not be able to do the job without my Advanced Audit paper and all the analytical things that I studied,' she says. 'It was a milestone when I discovered that what I studied combined with the practical knowledge I acquired over the years was such an asset.'
Chuah also believes that, given the changing trends in the accounting profession, in particular the pervasiveness of technology, accounting and finance professionals should reinvent their roles. 'In the past, accountants were the gatekeepers and custodians of financial information and they analysed these without the help of technology. Today, there are so many off-the-shelf accounting software products that the role of an accountant is no longer mechanical but more forward thinking.
'Accountants these days are not supposed to crunch numbers but be able to think strategically about how to capture newer markets using data and, most importantly, streamline the processes with minimum errors.'
While the job of compliance and risk management is, she notes, not without its challenges, technology can play a role in mitigating these. 'When I was starting out in risk management, I realised that a lot of the data that we captured were historical,' she says. 'You could see the same patterns occurring again and again, so it was possible for someone to commit fraud or hack the system.
Working with technology experts is, she says, vital. 'I tell my tech team to put in thresholds, and I design red-flag alerts using technology. The tech team will code but I need to think about the parameters and thresholds. To do that, I refer to the latest news from the FIUs or read about recent fraud cases. This way, my testing system will be more accurate and I am able to track newer trends of money laundering or even fraud.
At the same time, Chuah accepts that there is no one-size-fits-all of solution. 'You can't have an off-the-shelf compliance programme that you can plug in like an accounting system: it has to be country specific, industry specific and company specific. Compliance is really a tailor-made programme,' she says, pointing out that many of her peers struggle because of the speed with which newer risks emerge.

Staying ahead
Failure to keep up to speed with developments will inevitably lead to incidences of fraud, Chuah explains. 'In this job I get to determine the threshold, and as fast as I see the trend I will ask the tech team to give me a lower threshold so that I can flag or start doing my transaction monitoring. This way, I am capturing data in a more timely manner.'
The dynamic pace of the compliance and risk management world suits her disposition. 'I think you need to have an investigative mind; you always have to ask questions and stress test; in a way, you're a busybody!' she quips.
At the same time, the ability to detect risk requires creativity. 'People say that auditing is very boring and very repetitive. I think that is because it's the same old pattern, with the same client,' she says. 'But when you are in fast-changing technology environment like e-wallets and you're exposed to new companies, then it's a different ball game.'
Always thinking outside the box, and constantly engaging with tech leaders, Chuah hopes to further her career in the compliance and risk management field, and, with her drive, there seems to be no stopping her. 'I want to be an AML specialist,' she says. 'I want to be a key opinion leader and play a bigger role in shaping policies.'
The interview took place before the Covid-19 pandemic.

Sreerema Banoo, journalist
"You need to have an investigative mind; you always have to ask questions and stress test. In a way, you're a busybody"