Andrew Gambier, Head of Audit and Assurance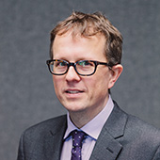 Andrew is Head of Audit and Assurance at ACCA's Professional Insights team.
He leads ACCA's policy on audit and assurance matters, contributing to Professional Insights publications and responses to consultations.
He provides technical support to Brendan Murtagh on the International Auditing and Assurance Standards Board, and to Zbigniew Libera at the Accountancy Europe (ACE) Audit and Assurance Policy Group. Andrew also represents ACCA on FEE's IAASB and environmental and sustainability assurance working parties.
Andrew has ten years' worth of experience of auditing listed companies in both the UK and USA. He is a graduate of Clare College, Cambridge, and trained as an auditor with KPMG.