Jo Iwasaki, Head of Corporate Governance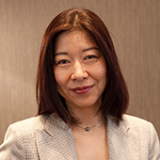 As Head of Corporate Governance within the Professional Insights team of ACCA, Jo has published on a wide range of corporate governance topics, including governance principles, board responsibilities, and diversity.
She has lectured in front of various audiences, including directors, academics, and students.
A qualified accountant, she is trained in tax and audit. In addition to corporate governance, she also has extensive experience in auditing and assurance.