The Baltic states at the outer edge of the European Union are among the bloc's smallest, least populous nations, but they are surging ahead in the global fintech race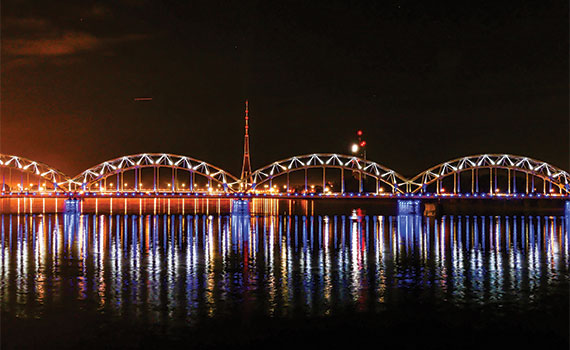 This article was first published in the February/March 2019 International edition of Accounting and Business magazine.
The Baltic states of Estonia, Latvia and Lithuania are world leaders in financial technology. According to the World Economic Forum report Europe's Hidden Entrepreneurs, Estonia is Europe's number one hotspot for technology entrepreneurs, with Latvia third and Lithuania seventh. Technological development, including fintech, sits at the heart of economic progress in these small countries around the Baltic Sea in north-eastern Europe.
'On a recent ranking of the world's 100 most innovative fintechs, as many as 33 were from the European Union, and within the EU, the Baltics are at the forefront,' says European Commission vice president Valdis Dombrovskis – himself a Latvian. 'This is linked to many factors, including the early adoption of digital technology, a culture for startups and innovation, and growing crossborder cooperation.'
For a trio of small countries that only joined the EU in 2004, having emerged from the shadow of the Soviet bloc just 13 years earlier, this is an impressive achievement. The small size of the domestic market in the three states – they have a combined population that, at just over six million people, is little bigger than Singapore's – has encouraged emerging companies to focus on export markets, driving them towards fast growth. And that external focus has been backed by effective government policies that promote innovation.
Estonia
Estonia's reputation for high-tech expertise was enhanced by the emergence of Skype, now a household name the world over. The country is also home to hundreds of less well-known fintech startups. The technological development of the most northerly of the Baltic states owes much to entrepreneurs from other countries, attracted by the government's e-residency programme. This allows non-Estonians to form companies and fully engage in Estonian banking, payment processing and tax systems. The scheme was launched at the end of 2014 and aims to bring 10 million e-residents into the country by 2025.
Lithuania
Lithuania meanwhile has promoted its payments infrastructure and a supportive regulatory environment to lure global entrepreneurs, not only from Europe, but also from Israel and Singapore. As many as 35 fintech companies were set up in Lithuania in 2017, tripling the size of the sector, which employs nearly 2,000 people.
Vilius Šapoka, Lithuania's minister of finance, told a recent conference: 'In such a short period of time Lithuania became the fastest-growing fintech hub and it is not going to stop... We are offering tax holidays for startups, a fast licensing process, a regulatory sandbox at the central bank, and a friendly newcomers programme at the central bank. Furthermore, if you do R&D activities in Lithuania you can deduct your expenses by triple the amount.'
The regulatory sandbox allows companies to test financial innovations in a live environment for up to six months under the supervision of the central bank. During this time, participants are subject to simplified regulations and supervisory requirements. If the services work well in the test environment, companies are permitted to start operating in normal conditions.
Latvia
Talent is vital for the region's fintech businesses, according to Roberts Lasovskis, investment platform lead at Twino, one of Latvia's successful startups. 'It has become quite common for the world's leading fintechs to base themselves, and specifically their service centres, in the Baltic region,' he says. 'Riga, Vilnius and Tallinn are all now thriving fintech hubs – it's not unreasonable to suggest that they are now beginning to rival London and Berlin as silicon cities in the Central and Eastern Europe region. As a result, the region has an exceptionally strong talent pool, and top fintechs are able to recruit top professionals.
'In Latvia, this quality is tied to the education infrastructure. We have a substantial base of financial experts, in part because we have significantly more universities focusing on relevant sectors than other Baltic countries. In our region, this industry has something of a symbiotic relationship with our education system, which has a real focus on financial services.'
A skills advantage leads to strong businesses, adds Lasovskis. 'Industry employs top tech talent, and the technology talent pool in Latvia is getting better and better.'
Paul Gosling, journalist