Aleksandra Zaronina-Kirillova, Head of SME Professional Insights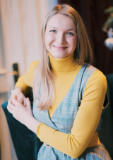 Aleksandra Zaronina-Kirillova is head of SME professional insights at ACCA. She develops research and advises on policy issues for ACCA related to SME/SMP (Small and Medium Enterprise / Small and Medium Practices).
Having previously worked for SMEs in pharmaceutical, transport and hospitality sectors, Aleksandra has hands on understanding of the needs and realities of the SME world.
Aleksandra has a strong international record and understanding of emerging markets. Prior to joining ACCA, Aleksandra dealt with various international organisations including the UN and regional integration projects of E&Y. As part of her work, she represented the sector at high level international events and developed joint research with Oxford Economics, Organisation of American States, UNECE, etc.
Aleksandra holds MA in Development Studies from the Graduate Institute of International and Development Studies, Geneva.