Mike Suffield, Director - Professional Insights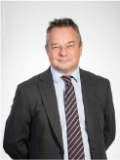 As Director of ACCA's Professional Insights team, Mike leads a team of technical and policy experts producing insight on the most pressing issues impacting the business environment. The focus of the team is to think ahead, to seek to understand and interpret key future developments and to use this as the basis both for thought leadership and practical advice for members and stakeholders. All of the team's work supports the ACCA's mission to be a global leader in the accountancy profession.
The work of the Professional Insights team helps drive the ACCA's focus on the public interest. Support for the public interest was the unifying theme of Mike's career in audit and regulation prior to joining the ACCA. After graduating from Brasenose College, Oxford University in 1988, Mike established his accountancy career at Coopers & Lybrand before building his career to Director level at the UK National Audit Office.
More recently, Mike gained valuable experience at the Financial Reporting Council, the UK audit regulator, firstly heading up the FRC's Audit Quality Review team, and then taking on the role of Executive Director, Audit with overall responsibility for oversight of the UK audit market.