Mesfin Tessema Ashagrie FCCA is helping shape a prosperous and progressive Africa by driving the implementation of Agenda 2063 – the African Union's 50-year masterplan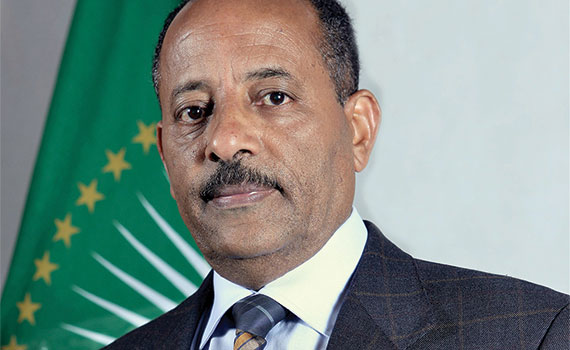 This article was first published in the July/August 2020 Africa edition of Accounting and Business magazine.
As director of strategic policy planning, monitoring, evaluation and resource mobilisation at the African Union Commission in Addis Ababa, Ethiopia, Mesfin Tessema Ashagrie FCCA is playing a big part in helping Africa realise its potential. 'I am responsible for the strategic direction of the organisation,' he says. 'The continent needs professional people. In my small way, I really enjoy contributing something.'
Mesfin, who was born in Ethiopia in a small town called Belbelity some 400km from Addis Ababa, heads a team of around 45 people from a range of backgrounds, including economists, statisticians and experts in finance, accounting and public management. His directorate has numerous functions, including developing strategic plans, monitoring and evaluating the implementation of approved programmes, mobilising resources from development partners, and building and disseminating knowledge to support policy development. It also collaborates with the finance directorate to finalise the African Union's annual budget, and is a key part of the secretariat responsible for the day-to-day activities of the African Union Commission.

Agenda 2063
Dominating all other activities is the directorate's work in coordinating the development and implementation of Agenda 2063 – the continent's 50-year blueprint for transforming Africa into the global powerhouse of the future. Its seven aspirations – which include creating a prosperous Africa based on inclusive growth and sustainable development, integrating the continent and ensuring it is peaceful and secure – are sweeping in their scope.
The core content of Agenda 2063 had already been agreed when Mesfin took up his current role in 2016, but he initially spent a lot of time on 'domestication' – popularising Agenda 2063 with key stakeholders and encouraging member states to integrate its goals into their own national plans.
The effort has had a positive impact. In 2019, 31 countries agreed to prepare their first national reports on progress towards achieving the 20 goals outlined in the first 10-year implementation plan of Agenda 2063, running from 2013 to 2023. 'That was a big achievement,' Mesfin says. 'It involved bringing in professionals and educating countries in how to prepare a report on the goals. It was not an easy task, but we did it.' Current progress at a continental and national level in working towards Agenda 2063 goals can now be tracked via an online dashboard (at bit.ly/nepad-dash).

Fifteen flagships
Mesfin's directorate also supports the 15 flagship projects of Agenda 2063. Some of those projects concentrate on building infrastructure, such as an integrated high-speed train network connecting all African capitals and commercial centres. The largest project, the Grand Inga Dam in DR Congo, is expected to generate 43,200 megawatts of power and cost around US$$80bn. 'If you don't have energy, you can't develop,' Mesfin says.
Other projects depend less on cash investment and more on political will. 'One day we believe Africa will be integrated completely,' Mesfin says. 'In the meantime, the integration process should start – for example, by allowing people, as well as goods and services, to freely move around the continent.' Hence two other key flagship projects: an all-African passport (coupled with free movement of people), and a single market for goods and services (the African Continental Free Trade Area – AfCFTA).
One Agenda 2063 flagship project that requires both political will and money – called Silencing the Guns by 2020 – has proved challenging and elusive. 'Silencing the guns by 2020 was the target, but unfortunately the guns are still speaking loudly,' Mesfin says. As a result, spending on peace and security consumes a large part of the African Union budget.

Covid-19 impact
An unexpected challenge to all projects this year has arisen with the Covid-19 outbreak. A member of the continental taskforce on Covid-19, Mesfin has been helping mobilise resources to fight the pandemic. 'We had to prepare a quick, brief strategy for how we would do that,' he says. 'The taskforce mandate is to mobilise resources and channel them where needed.'
The pandemic's effect on economies is likely to hit the African Union's revenues and its work. 'Each member state has challenges at home because of Covid,' Mesfin explains. 'Many people are out of work. There are medical expenses. So we may not receive the whole assessed contribution from our member states, our main source of revenue. This will significantly affect our operation. Partners in Europe are also fighting their own war at home. So the African Union Commission is affected, and the whole Agenda 2063 as well.'
For example, the AfCFTA agreement had been due to be implemented on 1 July 2020, but when interviewed in May, Mesfin thought delay 'highly likely' because the Covid-19 outbreak had disrupted negotiations that had been scheduled for February to June.
The pandemic has had one positive impact, however. 'We have learned we can work from home using technology,' Mesfin says. 'The African Union Commission is a travelling organisation. We travel all over the African continent for meetings and workshops. But now we know, going forward, that we can significantly reduce our travel and use technology to meet people all over the continent.'
With or without Covid-19 interruptions, completing the high-budget infrastructure flagship projects will require substantial input from accountancy professionals. 'These projects involve big sums of money,' Mesfin points out. 'Their implementation requires many contracting companies and consortiums. The accounting profession will be key in ensuring the submission of reports and tax returns on the implementation of Agenda 2063 projects. Ensuring the quality of financial reporting cannot be overemphasised. This is about making sure public funds are not misused. The profession will investigate project expenses for implementing Agenda 2063, and compile information for internal and external auditors, as required.'
Mesfin sees important roles for professional bodies too, including ACCA, to help governments implement policies and deliver services. 'Professional bodies provide support to governments through physical infrastructure creation, service delivery, development of professional resources within the government, building civil society by increasing individuals' capacity to be responsible and active citizens, and the development of information,' he says. 'Governments can work together with professional bodies to reduce poverty, address challenges of gender or ethnic biases, combat environmental degradation and strengthen the more vulnerable regions.'

Multiculturally rich
Mesfin's views have been formed in a career spanning public and private sectors. He joined the African Union Commission in 2005 as its head of programming and budgeting, but spent almost 20 years in banking before deciding to switch to the public sector: 'I chose to join the international public service because you work with people from a variety of backgrounds – with different languages, cultures, behaviours.'
The African Union was in its infancy at that point, having been launched in July 2002 to replace the Organisation of African Unity. The African Union Commission offered attractive opportunities for talented people. 'I was shortlisted for three positions,' Mesfin recalls. 'I believe the reason I was shortlisted from thousands of applicants was because, in addition to my master's degrees, I was an ACCA member.' This set him apart because of both the knowledge he had acquired and the personal discipline required to gain the qualification. 'People believe in you,' he says. 'ACCA makes you open-minded. Your brain is always ready to grab new things.'
After 11 years heading the programming and budgeting team, as well as being acting director of programming, budgeting, finance and accounting for a year, Mesfin took on his current position in 2016. He remains inspired by his work and its potential impact. 'My current passion is Agenda 2063 because I see that as a light for the continent,' he says. 'It touches every aspect of our lives.
'The biggest aspiration is to have a prosperous Africa where people really benefit from the development and growth of the continent. Africa is the richest continent, resource-wise. I wish this resource to be shared – not equally, I am not a utopian – but I want people to have at least the minimum standard of living. That is why I'm dreaming to see these aspirations of Agenda 2063 realised by the African Union. When that happens, we may no longer see African people dying of hunger or minor diseases. That is my wish.'

Sarah Perrin, journalist
"I dream of seeing Agenda 2063 realised. When that happens we may no longer see African people dying of hunger or minor diseases"