Accountancy Futures magazine
ACCA and Chartered Accountant ANZ's twice-yearly professional insights publication
Edition 18 - May 2019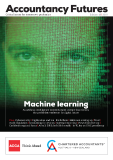 How will the latest cutting-edge technology impact on the work of professional accountants? In this 18th edition of Accountancy Futures, jointly published with ACCA's strategic alliance partner CA ANZ, the cover feature explores machine learning, taking as its basis the latest ACCA research, Machine learning: more science than fiction.
Artificial intelligence has become a reality, offering both opportunities and challenges for the profession. There are also articles on tax admin systems; blockchain and cybersecurity.
We also cover the latest survey of public trust in tax systems in G20 countries; SMEs and scaling up; global lessons as a result of high-profile audit failures; cryptocurrencies; and extended external reporting. We look at the Caribbean as ACCA celebrates its 20th anniversary in the region; and report on issues raised at ACCA's March International Public Sector Conference in Prague.
Interviews include retiring IAASB chairman Professor Arnold Schilder; incoming IFAC president Dr In-Ki Joo; Jaguar Land Rover FD Michael Mills; the first female director-general of Ghana's criminal investigation department Maame Yaa Tiwaa Addo-Danquah FCCA; and Gary Turner, UK MD of Xero.

Read the latest edition by downloading our Insights app or online