Events
On Thursday 8 March 2018 we celebrated International Women's Day with our members all around the world, recognising the achievements of inspirational women.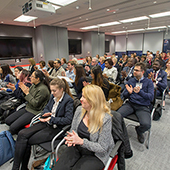 This year our members were invited to explore the #pressforprogrees and hear from empowering women pioneering for progress on gender equality.
Bristol, UK
In Bristol invited speaker Alison Edgar, The Entrepreneur's Godmother gave an inspiring overview about her journey to becoming a leader in her field to over 70 guests and members.
Alison shared her strategy, hard work and determination that has led to her becoming the entrepreneur's godmother and working towards being one of Britain's brightest brands.
If you don't know where you are going you are never going to get there. If you don't have a target you are never going to hit it" - Alison Edgar, The Entrepreneur's Godmother
Cambridge, UK
Nicky Peters, business finance consultation hosted an entertaining evening with 25 guests and members. Nicky spoke about the role of the modern women and how to build on their strength and resilience to meet the challenges they have as professional working women.
Set yourself goals - if you don't know where you want to go, you can't start - Nicky Peters, business finance consultation.
Ireland, Dublin
ACCA Ireland hosted their annual international women's day breakfast with over 190 guests.
Carol Bolger and Aileen O'Toole co-founders of female leadership network who published #WomanUp gave an inspiring talk about their own careers learnings. Empowering our current and future members on growing the cohort of female leaders.
Sharing their learnings from their own careers, highlighting the business case for developing female talent and provide practical solutions for businesses on growing the cohort of female leaders
Glasgow, UK
Over 70 ACCA Scotland members celebrated International Women's Day with - Stephanie Inglis, Commonwealth Games silver medallist, who shared her inspirational story about her flight back to health after given a per cent chance of survival
Leeds and Sheffield, UK
Technologist, inventor and musician LJ Rich explored the tech trends that will quietly revolutionise everything about our lives.
From Brain-controlled tech to immersive experiences, members learned how the interaction between humans and technology are creating unexpected ripples in civilisation, and what they can do to keep ahead of the game.
'With the internet everyone can learn new skills. There is untapped potential in everyone, regardless of sex, race or wealth'. - LJ Rich
London, UK
ACCA and its Women's South East Network panel hosted a prestigious evening. 100 members from various business sectors gather for a debate around:
driving gender pay parity: pace of change, progress and future challenges
100 years since women got the vote in the UK: how far have women come since?
examples of effective leadership and best practices in businesses
diversity, open discussion and transparent reporting as key items for progress.
A few interesting quotes from our panellists last evening were:
'Progress fully depends on leadership, but sometimes leaders are not comfortable being vulnerable and having their own opinions challenged. We need to look into this in order to move forward' - Jennifer Veevers, Virgin Media.
'The way we choose leaders is still very traditional and typically the level up chooses the level down. It should be transformational and actually the other way round' - Heather Melville, RBS.
'Effective leadership is a never ending process. Everyone has got their own style. I tend to think of leadership as parenting: you want it perfect but there is always room for improvement despite you doing your very best' - Rhonda Best, Alexander Bain & Associates.
Malaysia, Kuala Lumpur
In line with the Government of Malaysia's plan to evaluate the role of women, ACCA Malaysia launches its first women's network event. Featuring HE Victoria Treadell, British high commissioner to Malaysia as the guest of honour and panellists:
YBhg Datuk Alexandra Chin, chair of the ACCA Malaysia women's network, past ACCA global president and member of the ACCA Malaysia Advisory Committee
Ms Jessica Macias, development director, Lean In Malaysia and co-founder and managing director of Leadapreneur
Mr Andrew Chan, Malaysia consulting leader and sustainability and climate change leader, PwC Malaysia
Mdm Sugunah Verumandy, head of industry, Talent Partnerships and Solutions (IPTS), Talent Corporation Berhad Malaysia.
Swansea and West Wales, UK
Journalist, presenter and broadcaster Frances Donovan hosted a sparkling afternoon tea with guest speaker Olympian Becky James. The day marked a call to action for accelerating gender parity and empowering members to explore the #pressforprogrees campaign.
Unlocking the potential of 200,000 members
In the year that we celebrate our diverse global membership reaching 200,000 - 46% of who are women - we invite all our members to share what their ACCA membership means to them.
A leading qualification for a changing world
Our changing world needs high-quality, professional accountants more than ever. With ACCA Qualification - the future, we introduce innovations that set the standard for others to follow.