Since being awarded the 2016 Games in 2009, Brazil's economic position has changed. How has it coped with the arrangements in financially restrained times?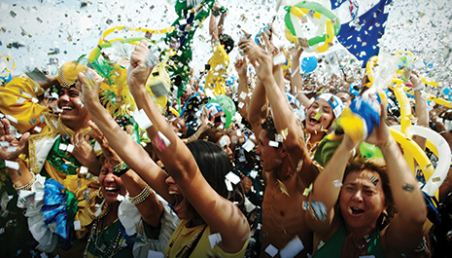 This article was first published in the July/August 2016 international edition of Accounting and Business magazine.
With the Rio 2016 Olympic and Paralympic Games due to start in August, Brazil is hoping that a financial crisis and a dramatic cost-cutting of the Games budget will all be forgotten once the two-week festival of sport gets under way.
During the countdown to the Games, Brazil has been in perhaps the most vulnerable financial situation of any Olympic host nation in recent history, as well as being plagued by political instability and health problems.
In May, Dilma Rousseff was stripped of her presidential duties for up to six months after the Senate voted for an impeachment trial. In the same month, 150 top scientists wrote to the World Health Organisation asking for the Games to be postponed because of the dengue-like Zika virus, linked to a surge of birth defects. However, the WHO responded by saying there was no public health justification for doing this.
Since Rio de Janeiro won the Games in 2009, Brazil has gone from boom to bust. A year after the Games were awarded, the Brazilian economy was growing at 7.5%, but by last year it had contracted by 3.8%. As a result, numerous reports suggest the operating budget for the Rio 2016 Olympic and Paralympic Games has been reduced by an estimated US$500m.
However, a spokesman for Rio 2016, which gets under way on 5 August, maintains that the operating budget, which stands at US$1.85bn, has only been reduced by 10% – closer to US$185m.
Whatever the actual figure – accounts are not made available to the public – approximately 80% of the costs will be met by the state, meaning cuts have been evident across the board.
Plans for a temporary, floating 4,000 capacity stand at the Rodrigo de Freitas Lagoon, which will host the rowing event, have been shelved. At the swimming venue in the Olympics Aquatics Stadium in Barra, several thousand seats have been slashed, while the world governing body for sailing was told some time ago that the bleachers (raised, tiered benches for spectators) it wanted have been ruled out.
Organisers plan to deploy 60,000 security personnel for the Games. The security operation is larger than the 40,000 at the London Games, but smaller than the 75,000-strong in Athens – at a time when organisers were worried about terrorism following the 9/11 attacks in New York in 2001. The Rio security operation is expected to cost US$200m, according to previous estimates from Brazil's defence ministry. This compares to the 170,000 security personnel employed and US$800m spent on security for the 2014 football World Cup.
Athletes' rooms in the Olympic Village won't be fitted with televisions, while sponsor Panasonic has stepped in to give unprecedented financial help to run the opening and closing ceremonies. The operators of the Maracanã stadium, where the opening and closing ceremonies will be held, have sacked 40 workers – 75% of the total. 'We are looking into each and every budget item,' says Christophe Dubi, Olympic Games executive director. 'I think this is setting a new benchmark. The result is heading in the right direction. The organisers have found efficiencies, I wouldn't call it cuts.'
Ticket sales lag
To add to the negative mood around the countdown to the Games, ticket sales continue to lag. The organisers say there are 6.6 million tickets available for the Games in total, with just over 50% of the Olympic tickets and only 15% of the Paralympic tickets having been sold. Those figures are much lower than for London at the same point in time. However, Rio organisers point out that Brazilians do everything at the last minute.
In April, Ricardo Leyser, Brazil's minister of sport, said he was working on a plan to boost purchases and stir up more excitement among Brazilians. 'There is a perception that the Brazilian population has not yet woken up to the Games. We are going to work energetically on this because it's still not in people's heads,' he says.
'We need to sound an alert so that people remember this event and go and buy tickets. Many, many sports are already sold out. If we had more tickets, we'd have sold more. For the other sports, we have a campaign.
'Brazilians love to buy tickets at the last moment. This happened with the World Cup and other events. I am confident we will have full stands, and I hope sponsors can give the tickets they have to their guests.' Leyser has also revealed that the government may buy up unsold tickets, particularly for the Paralympic Games, and distribute them to schools.
At least there is plenty to cheer on the commercial front, with more than 700 commercial contracts signed with 1,272 suppliers. Officials are also claiming that the sponsorship programme target of US$1.2bn has been met.
As well as the International Olympic Committee (IOC) sponsorship strata of 11 worldwide Olympic partners, such as Coca-Cola, McDonald's, Samsung and Visa, there are six official sponsors including Nissan and Brazilian bank Bradesco. Coca-Cola's current Olympic sponsorship runs until the 2020 Games and is estimated to be worth in the region of £33.7m for each four-year Games cycle. There are also 10 official supporters including EY, Cisco and Latam Airlines.
A number of big brands are reported to have scaled back their hospitality plans, however – or are not investing heavily in Rio 2016 – partially because of the anticipated quality of the experience that Brazil will offer. Coca-Cola chairman and CEO Muhtar Kent admits that when the IOC and Fifa selected Rio and Brazil to host the Olympics and the World Cup respectively, companies knew there were risks. Clifford Bloxham, Octagon's UK head of talent and properties division, says: 'Some brands will cut back their hospitality plans for Rio compared to London 2012, but the levels are still likely to exceed Beijing in 2008. There is a different level of expectation in an emerging country like Brazil and that has to be taken into account.'
One source tells Accounting and Business that World Cup 2014 hospitality in Brazil was not a great success, with reports of heads of state forced to walk through public areas and in close proximity to the smells from hot-dog stalls.
There was also a raft of protests from angry locals, leading several brands and marketing agencies to make adjustments, including increasing staff and security numbers, through to reviewing transportation plans and evaluating marketing programmes ahead of this summer's Games.
As a result, a proposed law defining terrorism may effectively criminalise any protest movements in the country during the Games, including those looking to use media attention to highlight social injustices and push for reforms. The bill would give authorities the power to arrest and charge people as 'terrorists' should any damage result from heated protests.
Cause for optimism
Despite wave after wave of negativity, officials and executives remain optimistic about the value and potential for the Rio 2016 Olympic and Paralympic Games. London 2012 also suffered negative press reports before the event began, with many now believing the London Games were among the best ever.
Rio will be the first modern Olympiad in which all of the events (football aside) will take place within the city limits. As the buzz around the Games rises, focus is sure to switch from logistical and economic problems to a carnival of spectacular sport and the opportunity for many to sample a once-in-a-lifetime experience in one of the world's most romantic sporting cities.
Alex Miller, journalist