Accountancy Futures magazine
ACCA and Chartered Accountant ANZ's twice-yearly professional insights publication
Edition 16 - May 2018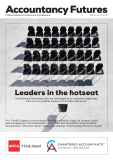 What are the key qualities for leaders in the modern age? Our cover issue looks at how traditional notions of leadership need to change to reflect advances in technology.
Elsewhere we explore how boards deal with the upsides of risk, look at the new trend of initial coin offerings and ask whether corporations are psychopaths of the modern age. With the FIFA 2018 World Cup about to kick off we take a look at the business of sport.
You can also read about audit skills, social mobility, and what the next generation of professional accountants see as important. High profile interviews include Bermuda politician Patricia Gordon-Pamplin FCCA.
Read the latest edition by downloading our Insights app or online