Agnieszka Gajewska, FCCA
Global government & public services leader, PwC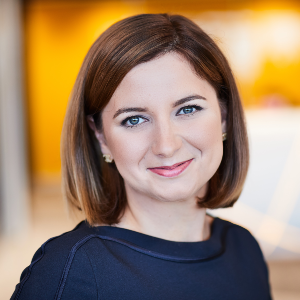 As PwC's global government & public services leader, Agnieszka Gajewska oversees 12,000 people globally. She also leads the firm's environmental, social and governance (ESG) agenda across 27 countries in Central and Eastern Europe (CEE), advising clients in both the public and private sectors on their green transformation. In addition to these responsibilities, she sits on PwC's CEE board and heads the PwC Poland Foundation.
Agnieszka joined PwC as an auditor after graduating from the Warsaw School of Economics with a degree in finance and banking. She later transferred into the firm's advisory practice, specialising in infrastructure finance. In 2006, she moved to London where she stayed for over six years – an experience she describes as 'decisive'.
'I started working with international teams,' Agnieszka explains, 'and it opened my eyes to different points of view and different ways of working.' While she was in London, she left PwC and started her own business, InfraLinx Capital, a specialist infrastructure investment and development company.
Then, in 2016, Agnieszka seized the opportunity to re-join PwC as both a partner and CEE and infrastructure leader. 'If you have a vision of what you want to achieve, PwC is a great place to be,' she says. 'I got access to skills, talent and relationships I wouldn't have got in my own company.' Five years later, she was appointed to her current global role.
At PwC, Agnieszka has been involved with projects that are centred on a 'just transition' to a net zero economy – projects intended to mitigate the impact of transition on different societal groups, including those whose livelihoods depend on polluting industries. She has also helped to facilitate the finance for renewable energy projects that now generate energy equivalent to the total used by more than 10% of Polish households.
Throughout her career Agnieszka has prioritised self-development. After gaining the ACCA Qualification, she acquired the technical skills she needed for infrastructure financing, including financial modelling, project finance and some legal and technical skills. Later she gained coaching and mentoring qualifications so that she could help other people grow. Now she is building up her ESG knowledge, saying: 'I need to have a good understanding of climate regulations, benchmarks and best practices to be able to support our clients and my teams.'
Development also features highly in Agnieszka's future plans. She has recently launched the Next Generation Leadership Academy, an 18-month programme that will equip PwC's public-sector leaders with the knowledge and skills to support governments as they address their biggest challenges. She explains: 'Organisations like ours should be helping governments think outside the box, be as innovative as possible, and be more inclusive when listening to the citizen voice – and this is what our leadership academy is about.'