Clara Chirculescu FCCA
Associate director – finance, IQVIA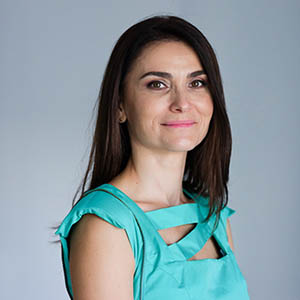 Clara Chirculescu began working in KMPG's finance function while studying economics at the Romanian-American University in Bucharest. She quickly discovered that she was interested not only in the figures, but also in the 'human side' of business. So, it was a natural move for her to join a training company a few years later, starting out as a senior accountant and ultimately becoming chief financial officer.
Clara took advantage of her time at the training company to develop her leadership skills alongside her technical skills in accounting and tax. These leadership skills included critical thinking, problem-solving and resilience, as well as how to motivate herself and others. 'I've always been curious and I wanted to learn more,' she says. 'I also like helping other people to learn.' So, in addition to attending courses herself, she delivered training on topics such as finance for non-finance people and managing conflict. Later, she trained ACCA students in financial accounting and reporting.
After spending more than a decade in the training industry, Clara joined the World Wildlife Fund (WWF) in Romania in 2017, intrigued by the opportunity of working for a not-for-profit organisation. She ended up spending over four years with WWF, where she was responsible for managing budgets and reporting. During this time, she continued to hone her leadership and management skills by acting as a mentor and coach to others, and being mentored herself.
At WWF Clara gained greater exposure to the issue of sustainability, which led to her studying for the ACCA Certificate in Sustainability for Finance. 'I like to educate myself in the importance of sustainability,' she says. 'I wanted to know how finance could support environmental issues and how I could be involved and make a difference.'
Today Clara is associate director – finance for the Romanian operation of IQVIA, a US-based research and technology company in the healthcare sector. As IQVIA came about as a result of a merger, she is focused on aligning the cultures of the two finance teams in Romania alongside her more traditional accounting and reporting responsibilities.
Clara is a staunch advocate of the 4Ps – people, planet, prosperity and principles of governance. She also has some important sustainability-related aspirations, both for her current role and her future career. 'As the mother of two boys, I hope they won't pay the price for us not doing enough now,' she says. 'I want to see nature and biodiversity restored and I want to put sustainability on the agenda of the top management team – and wherever I go from here, I want to contribute in the same way.'