Happiness Watimanywa, ACCA
Financial coach and entrepreneur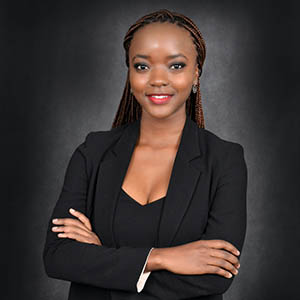 Happiness Watimanywa first fell in love with accounting when she was at school in Tanzania. In fact, she got on so well with the subject that she scored the highest result globally in her year for the Cambridge IGCSE accounting exam. Initially she wasn't sure if she wanted to pursue a career in accountancy, however, and only decided to focus on it after spending a gap year as Miss Tanzania.
The world of beauty pageantry equipped the then 19-year-old Happiness with some vital skills that have proved invaluable to her ever since. 'It was very eye-opening,' she says. 'I got to meet career professionals. I got to negotiate some contracts of my own. And I got to understand the mechanics of how to offer value to people and get paid.'
Happiness subsequently studied remotely for a BSc in applied accounting with Oxford Brookes University, which enabled her to work towards the ACCA Qualification. At the same time, she worked for a local small business and an audit firm. Later she joined KPMG as an auditor, where she served some well-known multinational companies. The most important skill she acquired as an auditor, she says, 'was how to communicate with different people'.
During her time at KMPG, Happiness noticed that many of her colleagues were struggling with their finances and often they would come to her for advice. This realisation promoted her to quit her job and go into business as a financial coach. It was through her coaching work that she came into contact with Tanzania's thriving tech scene and began managing an acceleration programme for fintechs, while also developing her own startup, an e-commerce beauty platform.
Happiness values the transformative nature of technology. She has also found that working in tech has enabled her to appreciate the power of co-creation – drawing on the diverse skillsets of a team to build a solution or think through a problem. 'Whenever an opportunity comes up, I'll call about 10 different people to get their insights, which I wouldn't have done two years ago,' she says.
On a voluntary basis, Happiness is director of the Dar es Salaam chapter of Startup Grind, the global community for entrepreneurs. 'I'm trying to build the community and enhance the experience of tech founders and innovators within our chapter,' she says. 'My aspiration is to have contributed in some way to their success.'
While she'll always keep her roots in accounting and finance, Happiness has found her purpose in tech. 'Tech is very, very exciting,' she says. 'In this space, we're looking at the future and how we want to shape and change the future. I don't know that I want to move away from it any time soon.'