James Lizars FCCA
CEO and founder of Thrive Accountants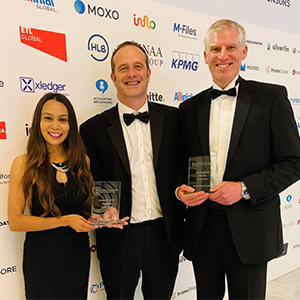 After beginning his career as a purchase ledger clerk at a commercial radio group, James Lizars (pictured far right) spent over a decade working in progressively more senior finance roles within the advertising and digital industries. His decision to found his own practice, Thrive Accountants, came about in 2013 because he wanted the flexibility that would come with running his own business.
UK-based Thrive – which is now a team of seven – provides professional finance services to B2B tech businesses. James enjoys working with tech founders because, as an entrepreneur himself, he can identify with the challenges they face. 'I've always been a little different, which is why the route up the corporate ladder was just not right for me,' he says. 'I'm much more creative in my thinking than is normally expected of accountants.'
James believes strongly that sustainability is vital to the long-term success of accountancy firms. For that reason, Thrive has committed to giving the greater of 20% of its profits or 2% of its revenues to good causes. It has also been accredited as a B Corp, a designation recognising businesses that demonstrate high social and environmental performance.
In 2021, Thrive took the Million Tree Pledge, a commitment that by 2030, not only would it have paid for one million trees to be planted, it would have inspired two other businesses to do the same. The practice is funding its pledge in creative ways – for example, by diverting the discount it gets from its software subscription to tree planting. Thanks to the pledge and its other sustainability initiatives, Thrive won the 'Sustainability Initiative of the Year' award at the International Accounting Forum and Awards 2022.
A year after making the pledge, Thrive had paid for 100,000 trees to be planted – mostly in Madagascar – while simultaneously increasing fee income by 45%. James feels this proves his point. 'I know in my heart that a business-for-good is going to do a lot better than a business that exists for profit alone,' he explains.
As he has progressed in his career, James has focused on honing his people skills and the general skills that business owners require, such as knowledge of HR and marketing. 'As a business owner, you've got to wear several different hats,' he says. 'And you've got to learn the roles underneath those hats and the skills that come with them.'
Going forward, he plans to focus more on communication, particularly on communicating the importance of sustainability to other accountants so that they, too, can help to drive change. 'I want to demonstrate through our business, as a case study, that there is no trade-off between purpose and profit, that one feeds the other,' he says. 'I want to take that message far and wide throughout our profession.'