From the finance delivery unit to tracking demand and supplies for vital protective equipment, NHS Wales assistant director Tim Kelland ACCA sets out how he's used his skills to help those on the frontline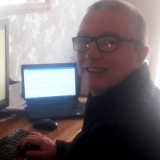 As a consequence of Covid-19, many NHS accountants have had to transfer their skills and knowledge to areas outside their normal roles. One area of concern identified by NHS Wales at the outset of the crisis was personal protective equipment (PPE).
It was clear from the scientific evidence that there was going to be a huge increase in the amount of PPE equipment required to support front line staff in Wales, but little intelligence to calculate how much of each product was required. It was also clear that the demand for the 14 product areas was going to be very high with significant supply risk.
Tim Kelland, assistant director of the finance delivery unit for NHS Wales, takes up the story:
'I have found myself supporting the development of a demand and stock reporting system for PPE equipment. The system provides information to NHS Wales, identifying PPE product areas of concern in a timely manner. The toolkit provides a live PPE stock count, an assessment of future demand as well as providing information with regards to previous stock burn rates.
'We have developed a live dashboard that provides users with a variety of information on the 14 main PPE product areas. This dashboard is being used:
by procurement staff to ensure they focus their attention on the product areas of greatest risk;
by the Welsh Government Ministers to help them inform the public in their daily briefing and also respond to Assembly member and media questions, and;
to identify areas where the Welsh NHS is in a position to support the other three UK nations in providing mutual aid.
'The development of the dashboard has been a significant challenge for the following reasons:
Unknown virus progression impact and profile across the Welsh nation
The changing scientific advice resulting in changes being made to what PPE is required
The limited information available with regards to the demand for PPE from non-NHS organisations, e.g. prisons, social care homes, funeral directors etc.
'The establishment of the toolkit has proved to be invaluable in the management of PPE. I am delighted that, so far, the Welsh NHS procurement department has not experienced the PPE stock issues that have been encountered by some of the other three UK countries.
'The development of the toolkit has been delivered by a small team of people all working remotely from our respective homes.'