ACCA survey reveals smaller accounting practices missing out on chance to help clients as one SMP tells how digitalisation transformed its business
The Road To Recovery?, an ACCA survey of finance professionals in business and accounting practices, suggests that the opportunities and risks facing different sizes of accounting and auditing firms vary.
Respondents from larger firms are clearly seeing more opportunities in advisory services relating to digital transformation, supply chain management and business continuity, but this does not seem to be always translating to the smaller accounting and advisory firms, suggesting missed opportunities.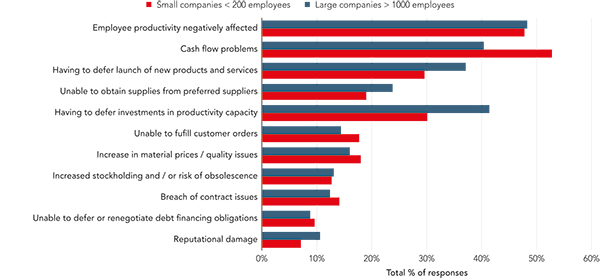 SMPs are missing dealing with the true opportunities to help their SME clients survive. Having access to robust data enabled by digitalisation, SMPs have a unique opportunity to support the survival and recovery of small businesses.
More than ever before the SMP is the trusted adviser to smaller businesses, and the Covid-19 crisis has reconfirmed this role. It is also call to arms for smaller accountancy firms to transform further.
Below, you can read an example of how an SMP fast tracked its digital transformation to ensure it became a necessity in its clients' businesses.
The survey data suggests smaller businesses are particularly suffering in some key areas. They face greater challenges in relation to stopped or reduced customer purchases and cash flow relative to larger organisations. Almost 60% of SMEs are now citing customer purchases as having stopped or reduced.

Cash flow is following a similar trajectory, with over half of SME respondents (53%) indicating this is now a problem, compared to 46% in our March data. This is of particular concern given the range of support measures introduced by governments to help SME financing and cash flow challenges (33% of SME respondents consider governments introduced support measures as effective).
Digital transformation of SMPs is key to accelerating the pace of change, ensuring durability, and driving better understanding of client needs. SMPs now have superb client opportunities to diversify in areas such as improving business resilience and continuity, supply chain management, and broader digital transformation.
As catalysts for innovation, SMPs can help businesses develop new revenue streams, transform their business models and support growth and share best practices. But this demands new capabilities and skills within the firm, and potentially culture change too.
The full report can be accessed at ACCA's Professional Insights page
Fast tracked digitalisation
Eriona Bajrakutaj, Managing Director of Major's Accounts & Co Ltd, UK, says:
'The last stage of our digitisation strategy was due to be implemented in August 2020, however due to COVID-19, we had no choice but to bring this forward and implement in within a week! This included actually ordering laptops.
'The team took to remote working amazingly and finally all of our hard work paid off, as all of the systems we have been implementing have allowed us to work seamlessly online, as we would have done in the office. Flexible working is now the new norm for us and the team love it as they can start to make work fit around their own lives.
Digitize to provide more advisory services
'The accountancy industry has never been so attractive for accountants in practice as it is at the moment. The acceleration and adoption of technological advancements now means redundant data entry can be eliminated and be automated with the help of AI. We started implementing our digitisation strategy three years ago.
'In that time, we have realised such efficiencies in the business, that we have now had more time to speak to our clients; to understand their businesses, their needs, their plans for the future and how we can assist in all of these areas. The time we have spent speaking to these clients have proven to be extremely fruitful and has helped to solidify our relationship with them even further.
'This reconfirmed to be of ultimate importance for our clients managing through Covid-19 crisis when they needed our help with cashflow management, access to government support schemes and repositioning their businesses. We are becoming a necessity in our clients' businesses now; in the planning and decision-making processes.
'The benefits have been two-fold, not only are we able to establish a new advisory service line, we have also helped our clients ensure they are compliant in keeping their paperwork but also helped us realise our concept of real-time accounting.
'As a result of transformation, our team demographic has changed entirely but so has our client base. We now have the luxury to pick talent which is excited to be working in an innovative way, but also ensure that the clients we now sign on, have the right cultural fit and mentality with our ways of working.
'We have now become a paperless office staff now have flexible working options; therefore overall, we are much more efficient, whilst getting to know our clients better.'