Ayodeji Chris Oyeniyi FCCA is the co-founder of KariGO, a digital logistics platform you can liken to an 'Uber for trucks', and an independent director at Belfrics - a Blockchain and fintech firm both in Lagos, Nigeria.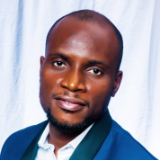 Who is Ayodeji Chris Oyeniyi?
Chris, as I like to be called, is an accidental entrepreneur. I was meant to study medicine and surgery at university, but ended up doing chemistry. However, before I'd even finished I'd already passed the ACCA exams and was on a journey I'd never imagined possible.
I am someone with rich life experiences and I've been able to connect the dots along the paths I have walked, with the ACCA Qualification lighting the way. I am an accountant with an entrepreneurial mindset. My motivations centre on finding innovative ways to solving problems, and in Nigeria and Africa these problems are staring at you every day.
What were your earliest motivations and ambitions?
I was a 'straight A' student in maths and physics, I'd always had a flare for numbers. I read books on Warren Buffet when I was 16. Then I saw the movie about Chris Gardner, Pursuit of Happyness, which told how he moved from being on the street to working with a top firm. This inspired me at a time when I was lost, confused and without career direction. I knew studying chemistry wasn't my thing, I was struggling.
Then I learnt about ACCA. My journey to the world of finance and business began, ACCA was the tipping point, the eureka moment. I did all the papers without failing a single one. My first job was as an audit associate while I still had the passion for working within the capital market sector, which I eventually did before venturing into entrepreneurialism.

How did you become an entrepreneur?
Everything starts with an idea. Mine was an experiment to see if anyone would buy the concept of an on-demand trucking solution powered by blockchain – KariGO, a tech-driven logistics platform that aggregates trucks, like an Uber for road haulage. At the time I was head of finance for Nigerian International Securities, but within a year KariGO had grown faster than was planned and needed more finance to scale up. So I had to quit the corporate finance world and commit to growing the business – one of the biggest decisions I've had to make. But it paid off. Soon after, the business caught the attention of a global venture capital firm and then an Econet Wireless company bought a stake. Now we are running a wider Africa expansion plan.
What has been your biggest career decision to date?
It's not becoming an entrepreneur, it's not leaving the capital market for a life chasing trucks, it's skipping chemistry classes to study for ACCA exams in a science library. It was using my school fees as a chemistry student to pay for the first ACCA exams, with a little help from my brother. It was a risk that has paid off. To be frank, that decision has gone on to give me the confidence to discuss business of any size with anyone. That for me was the defining moment for the life I live now.
Can you describe how technology has shaped your career?
The individual I am today did not exist five years ago. I have evolved with the rise of technology and the constant demand for innovative ways of doing things. I've evolved by constantly learning and re-learning. I will always look for how to do something better, keeping in mind the environment we are in has a high resistance to change. My role in the start-ups I am involved in is to build automated financial products that make a system seamless, from KariGO's truck aggregation platform to the Blockchain-related work I do for Belfrics. Everything revolves around finance and we are doing it innovatively.
What are your career ambitions?
With a first class degree in accounting from Oxford Brookes University and currently being on a PhD path, I hope one day to lecture finance and entrepreneurship at a top university. And ultimately seeing the start-ups am involved in being quote in a major market.

What words of advice do you have for someone considering a career in your area of specialism?
I recommend looking at technology trends to locate the things you need to learn? Ask yourself: How fast will doing business change over the next 10-20 years? How is the world around you changing? Learn, re-learn and learn again.
"Ask yourself: How fast will doing business change over the next 10-20 years? How is the world around you changing? Learn, re-learn and learn again."