Bridging the gap: Darren Kong FCCA, managing director of corporate strategy and alliances, Fusionex International.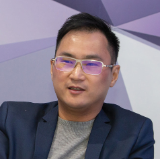 Please could you tell us a few things about yourself?
I am managing director of corporate strategy and alliances for Fusionex International, a Malaysia-based provider of data technology solutions. Fusionex is a specialist in big data analytics, artificial intelligence and machine learning. I am involved with drawing up the organisation's strategic roadmap, in consultation with the management team, and I oversee the finance function.
The most important part of my role, however, is to develop alliances and partnerships with other large enterprises, as well as with SMEs and trade associations. I also work with our tech team to design and customise solutions that are the right fit for businesses looking to adopt big data analytics technology. I'm passionate about developing people and I do a lot of coaching. I want to help groom the next generation of finance leaders.
What attracted you to work in finance originally?
I started taking up accountancy subjects during high school because of their relevance to business. Even at that time, I already aspired to become a finance director or CFO. I chose to do the ACCA Qualification because it comprehensively covered everything from technical accounting, auditing and finance through to business and financial management. It also inspired my interest in IT, the sector in which I now work. The ACCA Qualification is not just about passing professional examinations; it entails life-long development. I will continue to be a member of ACCA once I have retired.
You are currently a senior manager within the tech sector, which ACCA's latest research shows is an area full of future opportunity for accountants. How did you get where you are today?
I spent 15 years working in finance within the automotive industry. Automotive is a very dynamic environment, similar to the IT industry. I was involved with the complete supply chain, from car assembly and auto parts manufacturing through to car distribution, retailing and aftersales. Then I made the quantum leaps from automotive, to property, and now to IT. I learned the characteristics of each of these sectors, together with the business and operational best practices, and I got to know the people who worked in them. I found my knowledge of other sectors very useful when I eventually joined the tech industry because we are looking for ways to transform conventional businesses into digitalised businesses.
Did you have to disrupt yourself during your career?
Yes, I did. In 2016, I decided to leave a corporate financial controller position and take up the position of chief operating officer for a big data analytics firm. But I've always made a point of staying focused on my career plans, never rushing into a move, and developing myself in areas that will be important to my career in future.
Without your financial background, would you have become a senior manager in the tech sector?
Probably not. Being financially savvy has meant that I am able to help non-financial managers to make more data- and financially-driven decisions. It has also given me an advantage in terms of knowing how to relate financial and non-financial data. For example, with social media, if you have data on negative impressions, you can work out how much extra revenue the company might be able to generate if it could reduce those negative impressions.
What are your future career ambitions?
I am planning a start-up in collaboration with my fellow accountants in the tech sector. We see lots of opportunities to create tech initiatives for the accounting industry.
Given the likely technological demands of the future, what would be your advice to someone currently considering a finance-related career?
I foresee that accountants will turn themselves into analytics translators. To do this, they will need to acquire skills relating to the acquisition, analysis, management and translation of data. They also need to know their businesses inside out so that they can bridge the gap between the tech teams and the operational staff. So, my advice is this: 'Don't stay stagnant. Jump out of your comfort zone.'
"Don't stay stagnant. Jump out of your comfort zone."