Dawn Williams
When Dawn Williams was a child - so her parents tell her - she wanted to be prime minister. But while she was at school, she switched her ambition to audit.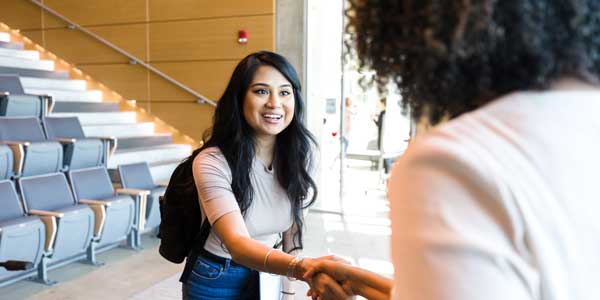 "I think it was because of my critical skills that I gravitated towards audit. In Barbados we push a lot of the technical stuff, but not the long answer, and I think that's why a lot of people gravitate towards financial accounting - but I was the opposite."
A summer internship at PwC underlined the appeal: 'I really loved the environment, because I get bored really fast. I need something new every day and audit gave me that'.
She was particularly drawn to manufacturing companies.
"I loved going to see how things worked, how things were made. And I think audit made me come out of my shell, because I was fairly shy before then. But if you are on audit you can't be shy anymore because you are dealing with the top-level people in the organisation."
After school her first job was with Deloitte, and she also began studying for her ACCA Qualification, which she describes as a 'humbling, humbling experience'.
"It was a real transition coming from the school environment, where I was fairly at the top of the class. Studying and working at the same time, it was very hard."
Nevertheless, she soon qualified and shortly afterwards took a job as financial controller with an off-shore company.
"I wanted the experience on the other side, and an opportunity came up at an offshore company, and it was paying a bit better, so I left. My audit partner told me "I give you six months". I didn't believe him, but after month two or three I knew the entire cycle and everything that was done."
She decided to go back to her first love, but this time as an internal auditor with a cement company.
"That was my favourite job. Every day was a challenge, there are so many things you have to investigate, so many processes and sub-processes. It was like heaven, I had to learn so much."
A lot of this was non-financial.
"Sometimes you have to walk the entire plant to do an environmental check, to see if people are disposing of the garbage properly. I could tell you how to make cement from beginning to end. And then I could tell you how to market it. And how HR [human resources] operates. I could tell you how all the individual departments are working because I have audited them."
But Dawn realised that she would have to set up her own business. Two chronic illnesses meant she had to spend a lot of time out of the office, and even though she was delivering her work on, or ahead of time, she found it taxing.
"In Barbados our culture often rewards attendance more than productivity. And though persons were not saying it directly to me, I felt the pressure of this presenteeism."
And so Resilia Accounting was born. Originally designed to be a payroll company for small businesses, Dawn quickly found herself drawn into accountancy through the network she had built up during her career, and she was also able to draw on the holistic approach to business she had learned as an internal auditor.
Before becoming a financial controller, she had taught herself QuickBooks, and this has stood her in good stead in the era of cloud accounting. Rather than take on fixed overheads, she works remotely and uses the flexibility to work around any recurring health issues. She works mainly with small businesses and keeps costs low by partnering with the university Accounting Students Association and offering work assignments to students, who otherwise find it hard to gain work experience and face a very competitive job market.
As well as giving free seminars at the university, she also offers a lot of tips to fledgling businesses. COVID-19 has accelerated the digital transformation and, as well as helping her customers make the transition, she is seeing a new wave of younger entrepreneurs who are starting their own businesses after losing their jobs in the pandemic.
"I can foresee a lot of them will be coming for accountancy services or advice or asking: "can you help me write a business plan or do some projections for me because I want to get a loan?". So, the nature of the services we offer is going to change a little bit. And as a result of COVID there's a push to educate younger people in entrepreneurship. It's a bit late, but it's good."
Reflections
Adversity can create opportunity.
Take every opportunity to broaden your experience.
Social inclusion gives a start to others.