From raising a firm's profile to boosting its buying-power, Keith Underwood explores what drives firms to join accountancy associations and networks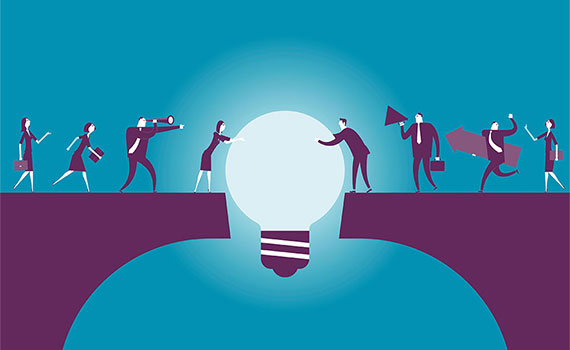 This article was first published in the July/August 2019 UK edition of Accounting and Business magazine.
There have been very significant changes in firms' membership of associations and networks both nationally and internationally over the last few years.
The dramatic changes, brought about by the acquisition of principal members in various countries, have raised the question as to the value of an accounting association: does membership provide merely a networking opportunity, or does it bring buying-power benefits, improve access to skills and raise the profile of an individual practice beyond its geographic footprint? (I should point out this article isn't referring to profit-sharing associations that prevail in certain geographic areas with firms such as Mazars. The focus is on UK national and international membership associations and networks.)
The UK market has had a number of associations for smaller independent accountants. The two most prominent are CharterGroup and UK200Group. These were originally set up to provide training and professional indemnity insurance. New joiners needed to meet a 'quality hurdle', particularly in audit. These grouped services have brought together some strong independent practices that originally sought benefit in the buying power of the association. This buying power has diminished over the last 15 years, with training firms and brokers willing to negotiate directly with individual practices at a far more competitive rate than was perhaps possible in the 1990s and 2000s.
The problem with these associations is that membership changes. UK200Group has around 70 member firms and CharterGroup around 40. As members are primarily regional firms, many have been acquired over the years by consolidators and/or have become part of larger firms that have been acquiring and merging.
It would seem that the major benefit now is not only the technical exchange and pool of skillsets, which might not be accessible to an individual practice other than through an association, but also the networking opportunities and understanding how other practices have tackled management issues, marketing, digitalisation, etc. As a result, these associations have developed specialisations and sub-groups looking at IT, digitalisation and specialist tax, alongside industry specialisms including agriculture, education, medical, professional services, etc.
Some of the recent consolidations undertaken by firms such as Baldwins Accountants have depleted the pool of smaller/mid-size firms that were members or might consider membership; the future possibility of these associations attracting practices of high-quality service and size is open to question.
Identity crisis
The issue that has always dogged associations is identity and branding – how firms should use the association branding alongside or instead of their own. Having a single brand has an advantage when dealing with banks and other institutions, but the change of identity in a local market may be seen as a risk and a perceived loss of independence. In some associations (eg PKF), member firms are required to use the brand name; in others (eg UK200Group), the brand can be used in conjunction with the firm's original name.
Networks and alliances, on the other hand, tend to be independently owned businesses that have national coverage and benefit from a stronger branding than offered by CharterGroup or UK200Group. Examples include MHA MacIntyre Hudson, UHY Hacker Young, Moore Stephens and Haines Watts. Networks and alliances also tend to consist of firms that have grouped together around another, larger firm that has a strong identity.
Looking at the value of associations and networks, much depends on the closeness of cooperation between the member firms and the time invested in building relationships. This hinges on linking successful firms of similar size, which may have specialisations but are generally working with similar clients in different geographic areas. Internationally, key considerations include the network/association's brand overseas, its referral potential and the quality of member firms in key locations.
In the UK there have been two recent changes at international networks occasioned by acquisition and merger: Baker Tilly adopted the RSM identity and name in the UK, releasing the firm from its membership of Baker Tilly International and thereby swapping one valuable international asset for another; and MHA MacIntyre Hudson, formerly a member of the association Morison KSi, picked up the Baker Tilly International representation in the UK.
Another recent change took place at the network Moore Stephens International. A number of its UK offices were absorbed into BDO, but some of its other firms were locally owned and not part of the BDO merger. Kingston Smith, which was linked with Morison, picked up the Moore Stephens association and is now a UK representative for Moore Stephens International. Of course, Moore Stephens has the other branded firms across the UK.
The fundamental changes to some of the networks' and associations' identities brings into question the value of being a member and whether joining up should merely be regarded as transitory – a useful vehicle during a particular stage in the development of a practice – or something more lasting, evolutionary and sustainable as part of a restructuring.
Regional change
In the past, associations and networks were often centred around US and European firms, but we are now seeing new networks developing in South-East Asia, South America, Japan and India. These operations are looking for members in other territories, particularly the US and Europe, and are being led by the strength of the demand for accounting services in certain countries.
Bearing in mind the projected growth of accounting services in those countries over the next few years, large independent firms will certainly emerge, and will have the scale and money to make acquisitions in the traditional accounting regions of the US and Europe. We might well see the Big Four become the Big Six (again), with firms emerging out of the Asian marketplace.
This is perhaps another reason why membership of an association is merely a transitional branding benefit, which can be changed to meet wider commercial opportunities in the accounting marketplace.
Keith Underwood is managing director of Foulger Underwood Associates.
"Much of the value depends on the closeness of cooperation between the firms and the time invested in building relationships"