With their connections, insights and knowledge, accountants are ideally placed to help close the global infrastructure gap, says ACCA president Robert Stenhouse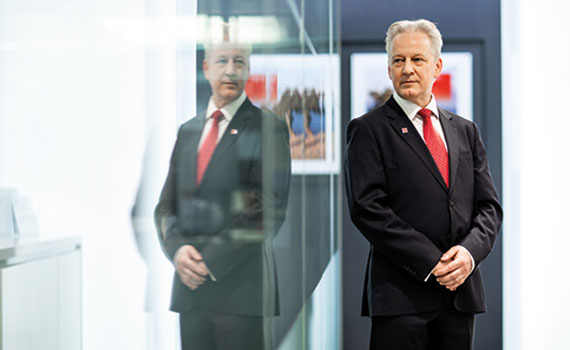 This article was first published in the July/August 2019 International edition of Accounting and Business magazine.
Infrastructure is critical for economic and social development around the world – from the transportation networks that enable people and goods to move around safely and effectively, to the utility systems providing power and services essential to survival. These systems and processes rely heavily on investments and funding. They also rely on something that is perhaps less tangible: connections.
Our global research report with Chartered Professional Accountants Canada, How accountants can bridge the global infrastructure gap, is our focus in this issue of AB (see page 36). The term 'global infrastructure gap' is a means of identifying the difference between infrastructure investment needed and the resources available to meet that need. In 2018 alone, the investment gap increased by over US$400bn, and it is set to grow to a staggering US$14 trillion by 2040.
Our report surveyed 3,611 professionals across 118 countries, who identified three major barriers to meeting infrastructure needs in their countries: 52% cited a lack of political leadership; 49% quoted a lack of finance or funding; and 40% said it was down to planning and regulatory barriers.
Not only do we gauge opinions about the challenges and opportunities ahead; we also offer recommendations to close the gap. For example, governments should enforce effective whistle-blowing legislation and professionalise the public sector finance function to allow public servants to challenge unethical behaviour that can disrupt projects.
Accountants have the power to close this gap. Our connections, insights and knowledge mean we are ideally placed to advise on the distributional impact and regional growth outcomes of selecting particular projects, which is crucial to achieve a better, more sustainable future.
Our theme for July, August and September is the power of connections – from networking and establishing partnerships when setting up a small business, to the future of global trading. ACCA's reach and global footprint means we can work together to close gaps across a range of other areas – such as mentoring, advocacy and fostering great business relationships.
There's a power and indeed a responsibility in all this that is often overlooked. But these connections and our ability to forge them need to be recognised and celebrated, and this 'connected' edition of AB gives us all a chance to really think about the connections we have, to review and reassess where the gaps are and invest in change where necessary.
Robert Stenhouse is ACCA president and a director, national accounting and audit, at Deloitte in the UK.