Building the foundations for the profession in Afghanistan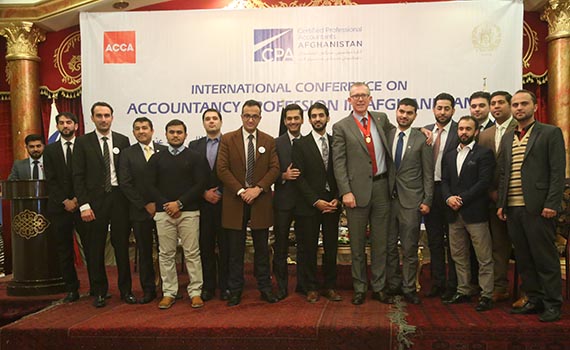 We believe that accountancy is vital for economies to grow and prosper, which is why we work all over the world to help build the profession and help society flourish.
In recent years, we've been providing vital support to develop the accountancy profession and national Professional Accountancy Organisation (PAO) in Afghanistan.
A Memorandum of Understanding between ACCA and the Ministry of Finance in 2015 was extended through a ground-breaking strategic partnership between ACCA and the newly formed CPA Afghanistan in November 2017.
We're working with CPA Afghanistan to build the foundations for the accountancy profession in Afghanistan – a country that now has over 1,300 ACCA students – and this number is set to grow to 5,000 over the next four years. These students are funded by the World Bank through scholarships that are managed by CPA Afghanistan.
ACCA and CPA Afghanistan collaborate closely to support our students, and the many other vital stakeholders in the country, across the breadth of the profession. This includes:
supporting CPA Afghanistan to establish their brand and develop their strategy for the institute and the profession
helping CPA Afghanistan to develop Afghanistan tax and law exams to supplement the ACCA Qualification with the appropriate national context
supporting CPA Afghanistan to establish and deliver their remit as the national PAO, for example: delivering member services and CPD and establishing appropriate governance structures, regulation and regulatory functions, including audit quality assurance
encouraging the implementation of international standards
collaborating to deliver market-relevant research and insights
working together to build the capacity of learning providers and ensure students have access to effective tuition
partnering with employers to promote the value of professional accountants and secure relevant roles for our students.
CPA Afghanistan has made incredible progress over recent years, including achieving membership of the Confederation of Asian and Pacific Accountants (CAPA). This collaboration, in the longer-term will support CPA Afghanistan's journey to achieve IFAC membership.
Our partnership is focused on delivering effective outcomes and long-term sustainability. This crucial work to establish the accounting profession in Afghanistan and the growing talent pool of professionally qualified accountants will contribute skills and infrastructure and ultimately play a major role in rebuilding the country.