CFA and ACCA: connections that benefit society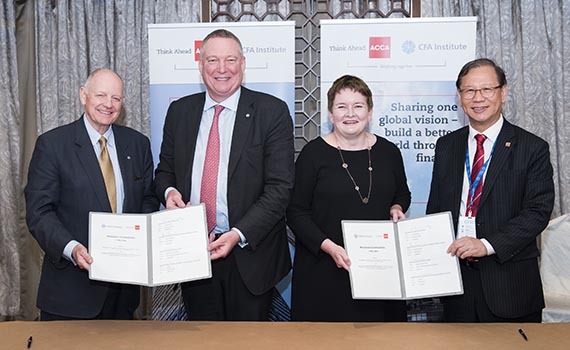 We believe that accountancy is vital for economies to grow and prosper, which is why we work all over the world to build the profession and make society fairer and more transparent.
For several years, we have worked closely with the global association of investment professionals, CFA Institute, to pursue our shared commitment to promoting the highest ethical standards that deliver lasting benefits to the finance profession and to wider society.
In May 2019, we formalised our connection with CFA Institute by signing an agreement that will see both bodies collaborate on a number of important initiatives, including ethics and professionalism.
ACCA and CFA Institute share a similar mission. As Helen Brand OBE, ACCA's chief executive, says: 'Our values align very closely, as we are both working globally to deliver the highest ethical and professional standards, ensuring our members deliver public value for the benefit of their employers and customers.'
The tangible value of both ACCA and CFA members lies in their integrity, professionalism and the expertise they have cultivated through rigorous qualifications and an on-going commitment to ethics and professional development.
The three-year Memorandum of Understanding establishes a joint programme of activity that sees both bodies collaborating to focus on the issues affecting both professions, including ethics, professionalism, continuing professional development and thought leadership.
Over the years of working together, we have hosted several joint events with CFA Institute including showcasing a shared ethical stance to mark Global Ethics Day in 2017 and 2018, while Paul Smith, president and CEO of CFA Institute has taken part in the 'Ethics in their own words' series of interviews with business leaders from around the world that the two bodies co-created with the Carnegie Council.
Looking ahead, there are more projects and plans in the pipeline, including more collaboration for Global Ethics Day 2019, with a joint event in Brussels to discuss the pressing issues around ethics and trust in a digital age.
As Smith says: 'It makes perfect sense that we should formally mark our future cooperation, and we look forward to partnering with ACCA as we jointly work to enhance our respective professions.'