Connecting with PwC to deliver cutting-edge insights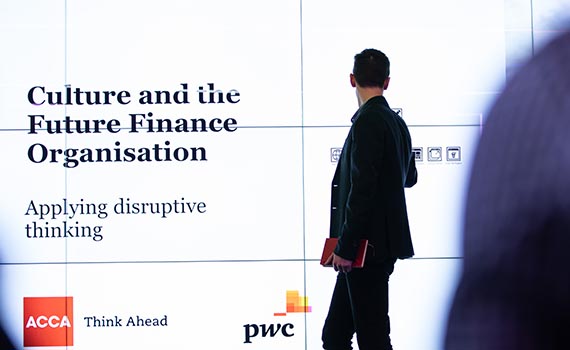 ACCA has a key collaboration with professional services firm PwC focussing on the themes of digital and the digital transformation of finance.
Extending over a number of years, both parties bring their particular strengths and assets to form valuable insights for stakeholders – ACCA members and PwC clients.
PwC brings market insight and transformation expertise with ACCA contributing methodology. For instance in June 2019 in time for the ACCA quarterly big theme – the power of connections – the two parties published a report Finance: a journey to the future?
The report was based on strong, rich collaboration with PwC providing strategic, market and operational insight plus hi-tech facilities and innovation spaces across the world – in London, Shanghai, Dublin and Gurgaon – enhancing the round table facilities and experience offered to ACCA members and PwC who participated. While ACCA contributed through the ability of its research and thought leadership capability.
Facilitated by PwC's Disruption team, ACCA and PwC developed a series of hypotheses about the future of the finance function while backing up these with joint surveys, events and research-based publications.
The approach and the deliverables are all set within an overarching framework allowing both ACCA and PwC to bring their contacts and networks to the research.
With both having strong internal and external networks and access to contacts – the journey research involved 1,100 ACCA members and PwC contacts across the globe – it comes as little surprise that the output consistently carries authority and insight.
The collaboration delivers great value to our members and PwC clients, and it benefits both organisations equally with PwC and ACCA receiving exposure to the others contact base and extensive network.
Such collaboration identifies relevant insights for the financial profession and the wider client base – for instance the journey research identified challenges and opportunities around data, skills and culture. Crucially without the other party, neither would have produced such work, or at least not to such significant standard.
In terms of output the win-win is thought leadership boosted by a joint approach which opens doors, achieves strategic objectives for both parties, strengthens the respective brands and gathers unique finance and business insights across the world.